Main content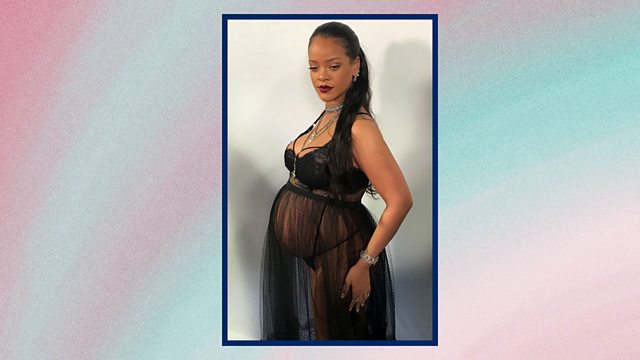 Is maternity fashion changing? Marina Ovsyannikova, Caroline Lucas MP & Dame Sue Ion, South Korean new PM, Surnames, Threads
Maternity wear - what impact, if any, do the fashion choices of a celebrity have on those around them?
Marina Ovsyannikova is an employee of Russia's state Channel One television interrupting the channel's main news programme on Monday night in an extraordinary act of protest against Vladimir Putin's invasion of Ukraine. She burst on to the set of the live broadcast of the nightly news on Monday evening, shouting: "Stop the war. No to war." - holding a handwritten sign to the same effect. The protest was welcomed by Ukrainian president Volodymyr Zelensky who mentioned it in his televised address last night.. And within hours of her protest, more than 40,000 people had left comments on the journalist's Facebook page, with many praising her for taking a stand. Professor of International Relations at London School of Economics, Tomila Lankina joins Emma.
In 2020, The Woman's Hour Power List celebrated 30 inspiring women whose work is making a significant positive contribution to the environment and the sustainability of our planet. Today, we talk to the Green Party MP Caroline Lucas, who topped that List. Can the UK afford its net zero policies? With the cost of living rising, and the impact of the war in Ukraine, are Britain's plans to cut greenhouse gas emissions too expensive? Joining Caroline to discuss will be engineer and nuclear industry expert, Dame Sue Ion.
In true popstar fashion, singer Rihanna announced her pregnancy in January with a New York photoshoot alongside her boyfriend, the rapper ASAP Rocky, wearing a bright pink coat, with layers of gold jewellery and chains resting on her new baby bump. And since that announcement, she's been seen wearing a number of eye-catching outfits. But is there a bump fashion revolution coming? And what could this mean for the everyday pregnant woman? Celebrity stylist Jennifer Michalski-Bray and pregnant content creator Zara Bentley join us.
Last week South Korea picked a new president: Yoon Suk-yeol. He is a conservative who defeated his liberal rival Lee Jae-myung. During his campaign he promised to abolish the Ministry for Gender Equality, denying that women face discrimination. South Korea has one of the worst women's rights records in the developed world, although modest gains have been made over the last few years. But that has ignited an anti-feminist backlash among many young men who see feminism as reverse discrimination, taking away their jobs and opportunities. So what does Yoon Suk-yeol's election mean for women? Emma is joined by Laura Bicker, the BBC's Soeul Correspondent and the feminist South-Korean film-maker Youjin Do.
Formula 1 world champion Lewis Hamilton has revealed he is officially changing his name to incorporate his mother Carmen's surname - Larbalestier. He says that he wants her name to continue on with the Hamilton name, and that he doesn't understand why "when people get married then the woman loses her name." It is understood that he will include it as a middle name rather than a surname. Dr Jane Pilcher, Associate Professor of sociology, Nottingham Trent University discusses what impact a high profile man taking this step could have.
Purnima tells the story of a beautiful hand-knitted dress she brought with her to the UK when her family was expelled from Uganda by Idi Amin. The latest in our series Threads.
Presenter: Emma Barnett
Producer: Kirsty Starkey
Interviewed Guest: Professor Tomila Lankina
Interviewed Guest: Caroline Lucas
Interviewed Guest: Dame Sue Ion
Interviewed Guest: Jennifer Michalski-Bray
Interviewed Guest: Zara Bentley
Interviewed Guest: Laura Bickers
Interviewed Guest: Youjin Do
Interviewed Guest: Dr Jane Pilcher
Interviewed Guest: Purnima Shah
Last on
Broadcast

Podcast
Women's voices and women's lives - topical conversations to inform, challenge and inspire.