Main content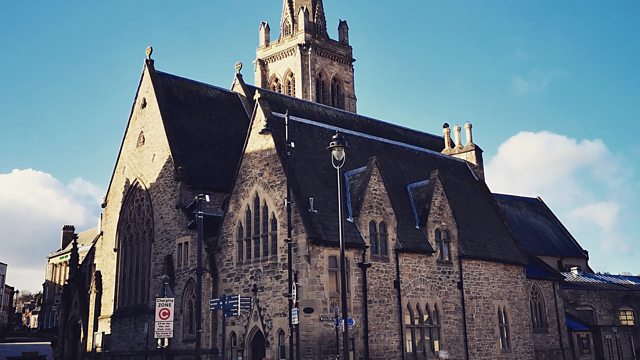 Racial Justice Is Everyone's Business
A service for Racial Justice Sunday from St Nic's Church, Durham.
In our society today people continue to experience exclusion, marginalisation and inequality because of their race. Today, across Britain and Ireland, churches of all denominations and traditions mark Racial Justice Sunday. This day aims to challenge us to shine the light of the Gospel on the inequalities that have allowed the division of the people of God along ethnic and racial lines.
The service is recorded in St Nic's Church, Durham. It is led by the Vicar, the Rev Arun Arora, and includes reflections and prayers from members of Churches Together in Britain and Ireland. Music is provided by the church's worship band, led by Sam Rankin, and the Durham University Gospel Choir. The producer is Andrew Earis.
Last on
Script
Welcome: Nicola Brady
Today, across Britain and Ireland, churches of all denominations and traditions will be marking Racial Justice Sunday, as an occasion to Remember, Reflect and Respond. 
Racial Justice Sunday is so much more than an event in the church calendar. In our society today, across these islands, people continue to experience exclusion, marginalisation and inequality because of their race. In marking Racial Justice Sunday through prayer and action, we are helping to transform that situation by raising awareness and calling people to reach out in solidarity and work to heal relationships. 
One of the themes for this year's Racial Justice Sunday is 'Racial Justice is everyone's business'. We have come to St Nicholas' Church in Durham where we will hear readings, hymns and inspirational gospel music from those living in this great city. We also hear voices from across the United Kingdom and Republic of Ireland.
Christians are called to bring Christ's healing love to a fractured and wounded world. While acknowledging that the divisions around race and ethnicity have run deep throughout our history, leaving a damaging legacy, we can bring a much-needed message of hope through a commitment to the work of reconciliation. 
Today's service is led by the Vicar of St Nic's, Arun Arora. We now join the congregation and band as the service begins with the great hymn celebrating God's world around us 'Praise to the Lord, the Almighty, the King of Creation'.
Hymn: Praise to the Lord the Almighty
Welcome: Revd Arun Arora
A very welcome to St Nics here in the heart of Durham. Standing at the site of Walker Gate, one of the old entrances to the city, worship has been offered from here for over 900 years. Looking out over the marketplace we continue to offer worship, warmth and welcome whether or those who come here to the country's first dedicated Fairtrade shop, those seeking safety at night or the regular 300 regular worshippers who attend each week.
We open now in prayer.
Prayer: Dr Frankie Asare-Donoh
For this special service for Racial Justice Sunday members of the congregation are led in our music by Sam Rankin and members of St Nics worship group from across our services and joined by the Durham University Gospel Choir.
Song: Way Maker
Rev Arun Arora
In a few moments time we hear from Rev Mandy Ralph, a Church of Scotland Minister. But first we hear words from the Epistle to the Galatians, Chapter 3.
Bible reading: Galatians 3: 26-29 (New International Version)
Reflection: Revd Mandy Ralph, a Church of Scotland minster
'Growing up as one of the few black children in a small seaside town in Ayrshire in the 70's, there was no illusion to be had that you were different, that you stuck out and your skin colour could not be hidden. Why would that be a concern? Why the need both to blend in and be proud of your skin colour, your heritage?
Because fitting in, having friends, belonging, being included, not excluded or picked on because of the colour of your skin is so important. It was at Sunday school that I learned about Jesus and how he welcomed all children regardless of skin colour and that God's love was for all people. Even so Jesus was still fair skinned and with blue eyes in most bible pictures I saw, so Jesus wasn't like me either. Imagine my surprise in later years when I realised genetically that was not the case.  
Throughout the times of racial abuse experienced as a child, teenager, adult, some aggressive, some systemic, some unsaid but present in the silence, my faith supported me. Turn the other cheek, forgiveness, hope all intertwined with my Christian beliefs. As well as the need to be better, to show my worth, to prove myself, work harder. Then as my faith journey progressed there was the realisation that God does not demand that of you. God sees you and knows your worth, values you, for after all we are all children of God and as such are made in God's likeness and so when you disrespect me, you disrespect God.   
We hear, sometimes defensively, 'all lives matter' and of course they should, but they can't matter while we turn a blind eye to the injustices and the inequalities that people face, that leaves them excluded, suffering and without a sense of belonging.
We are a multi-cultural society and as such in faith we have to embrace this and work in our communities and sphere of influence to uphold this, and just like Jesus can take a stand be advocates for justice and not complicit by our silence. After all we are asked to love our neighbour not abuse them.
Music: There is a balm in Gilead
sung by Durham University Gospel Choir
Rev Arun Arora
There is a balm in Gilead, sung by Durham University Gospel Choir. We now hear words from Dr Damian Jackson of the Irish Council of Churches, who reflects on his racial justice journey in Ireland.
Reflection: Dr Damian Jackson
'When I was a child of about seven or eight, I remember visiting an elderly relative who had just come back from a visit to South Africa. This was during the apartheid era and she was telling me about the segregation in the country. I remember saying I thought it was wrong and she said, "But Damian, you don't understand, there are just *too many blacks*." I thought that makes absolutely no sense at all. You can have too many people, if there aren't enough resources for all, but you can't have too many black people or too many white people, we are all just people.

At that time in Ireland we rarely saw a black person, the country was almost completely monoethnic despite the obvious community divisions, but over the last 20 years Ireland has diversified hugely and is now a multi-ethnic, diverse society. This has caused some tension and some challenges, and I think in Ireland we have a reluctance to admit that we can be racist, because we have historically been a country of emigration and have experienced discrimination in other countries. We can't admit that we would do the same.

In the Irish churches we have done a lot of work on welcome in over the past 20 years, but I think that only goes so far. There is a difference between welcome, and inclusion. 

The current President of the Methodist Church in Ireland was born in Sierra Leone, and he spoke about this recently saying it's the difference between allowing somebody to come into your home and have dinner with you, and letting them move the furniture around and join in deciding the way the house is decorated.
If we want our churches in Ireland to be places where everyone can belong, we need to move from welcome to inclusion.'
Hymn: Be thou my vision
Bible reading: Luke 6: 17-26
read by Seun Twins, President of Durham University Students Union
Sermon: Rev Arun Arora
The news of the death and passing into glory of Archbishop Desmond Tutu on Boxing Day of last year was not the only story that day which led to considerations of the place of racial justice in our world.
News reports that day also carried the story of an apology by the Chief Constable of West Mercia Police to the family of the premiership footballer Dalian Atkinson.
Although his name may be unfamiliar to some, as an Aston Villa fan I well remember Dalian Atkinson. There was his wonder goal against Wimbledon, voted as goal of the season in the 1993.  And then there was his goal the following year in the 1994 League Cup Final leading to Villa's victory against Manchester United. He was a gifted player and much loved by fans. 
But as brilliant and beautiful a footballer as Dalian was, so the accounts of his arrest, treatment and manslaughter were horrific and graphic. It defied belief that he could be subjected to such action by those entrusted to uphold the law. Some people refer now refer to this case as Britain's own George Floyd moment. 
But lest any of us become complacent all institutions from the Police, the Government, the Health Service and dare I say it the Church need to recognise that racial justice is not an optional add on  - it is a non negotiable part of what God's justice demands.
"Dear Child of God, I am sorry to say that suffering is not optional." So said Desmond Tutu .
Those words are a reminder that having a faith in Jesus Christ does not grant us a pass from the trials of life, from experiencing injustice or from brokenness.
But as our Gospel reading reminds us today, in Jesus we discover that suffering never has the last word. Rather it is the God of Justice, the God of hope, the God of love who claims the final word.
Our Gospel reading from Luke echoes the Beatitudes that begin the Sermon on the Mount in Matthew's Gospel. But Luke's account is different. Whilst Matthew's account begins with nine blessings, here Luke presents only four of those and then follows them symmetrically with four woes.
The crowd that has gathered to hear Jesus is diverse – they have come from Jerusalem, Judea, Tyre  and Sidon.  It includes not only those who come to hear but also those who come to be healed. 
And Jesus speaks to them with a message already familiar in the Gospel of Luke.
Both in Chapter 1 in Mary's song and in Chapter 4 at the Synagogue in Nazareth, the message Jesus brings is one which both comforts the disturbed and disturbs the comfortable.
The words of Mary's song -  the Magnificat – with its picture of God casting down the mighty from their thrones and where the humble, are lifted up,  where the hungry are filled with good things and the rich sent away empty,  prefigures our reading today. So do the words from the Prophet Isaiah which Jesus reads out in the synagogue in Nazareth where he announces his mission to proclaim good news to the poor, to set the oppressed free, to proclaim the year of the lord's favour."
In all of these Gospel instances we hear the constancy of God being on the side of those who find themselves broken by the world around them. It's an experience well known to victims of racial injustice.
But unlike Matthew's Beatitudes what follows here are four woes to those who seem untroubled by the lives of the broken. The words of Jesus to the rich, well fed, respectable and merry carry unsettling echoes to those unconcerned by injustice or its impact.
To those who dismiss the work of Racial Justice as just so much wokeism,
To those who say "can't we just ignore this racism thing and get along ?"
To those who have never experienced the burning humiliation of racism and its dehumanising consequences
To each of those and to each of us, we are today invited to come and join in the work of Jesus, to find common cause in bringing about, God's New World Order to come and join those of every colour and race in church who are committed to making this a reality.
In the days following his death there was an outpouring of love and tributes paid to Desmond Tutu. Many people quoted the words of the beloved Arch. One of my favourites came from his book God has a Dream where he wrote:
"We are made for goodness. We are made for love. We are made for friendliness. We are made for togetherness. We are made for all of the beautiful things that you and I know. We are made to tell the world that there are no outsiders. All are welcome: black, white, red, yellow, rich, poor, educated, not educated, male, female, gay, straight, all, all, all. We all belong to this family, this human family, God's family."
That is our call this day as we mark Racial Justice Sunday. On this day we hear again those wonderful words form Galatians that remind us that in Christ we share a common identity as children of the one God, beloved of Him, made for goodness and vested in one another's flourishing.
We share together the potential to be a blessing to one another, to celebrate a God of justice, to name racism as a sin, to challenge the pernicious evil of racism and in our togetherness to follow the Christ who calls us to proclaim the Good news of his Kingdom.
Today we declare our intention to work as builders of the Kingdom Of God, to work for that day when the words of the Prophet Amos will be fulfilled – when justice will roll down like rivers and righteousness like a mountain stream.
Music: You can't beat God's giving
sung by Durham University Gospel Choir
Prayers for Racial Justice Sunday
Song: Build Your kingdom here
Benediction: Rev Arun Arora 
Hymn: God of Justice (We must go!)
Broadcast