Main content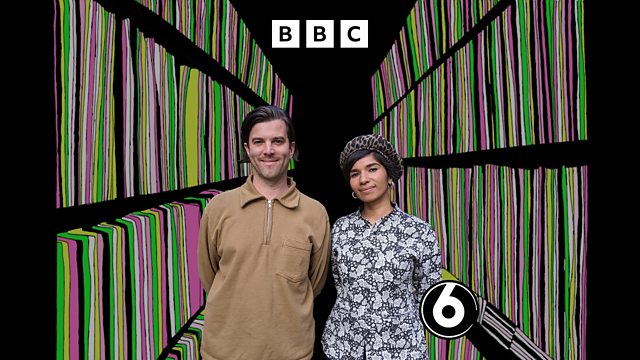 Nabihah Iqbal
Nabihah Iqbal reflects her wide ranging musical skills and knowledge in her eclectic picks, with tracks by Bruce Springsteen, sitar player Ravi Shankar and new wave band the B-52s.
Musician and broadcaster Nabihah Iqbal is Tom Ravenscroft's latest guest to Peel Acres - home to the legendary record collection of his dad, former BBC DJ John Peel.
Her picks reflects her wide ranging musical skills and knowledge in her eclectic picks, which includes tracks by Bruce Springsteen, sitar player Ravi Shankar, and new wave band the B-52's. Also, Tom digs out a real Jimi Hendrix rarity - an unlabelled bootleg featuring an intimate jam session, supplied with Black Panthers leaflets.
Presenter: Tom Ravenscroft
Producer: Kevin Core
Track 1: Backstreets - Bruce Springsteen (from Born To Run)
Nabihah admits she's only recently got into "The Boss", despite seeing him as a huge artist she feels she should know better already (Tom admits the same). She picks out a track from the 1975 album, Born To Run which launched him into worldwide fame - and is now regularly cited by music critics as one of the greatest of all time.
Track 2: No Justice For The Poor - King Tubby Meets the Upsetter (From At The Grass Roots of Dub)
The Upsetters were the house band for Jamaican reggae producer Lee "Scratch" Perry - who Nabihah describes as "the fore father to all modern electronic music". This album was mixed by sound engineer King Tubby - another pioneer of dub.
Track 3: Raga Rageshri, Pt.1 (Alap) - Ravi Shankar (from Improvisations)
Nabihah says learning how to play the sitar changed the way she thinks about music. So she has a huge amount of respect for fellow sitarist and composer Ravi Shankar - who in the 60s, hugely boosted the popularity of Indian classical music in Europe and American. He directly influenced Beatles guitarist George Harrison, and indirectly the music of Nabihah's next pick…
Track 4: The Golden Shamrock - Robbie Basho
Robbie Basho was inspired by a number of different musical cultures outside of his native America - and blended them into his acoustic guitar playing technique and sound. He died in 1986 following an accident involving his chiropractor, but there has been a renewed interest in his music over the past 20 years following re-releases of his work.
Track 5: Untitled jam - Jimi Hendrix
Tom has put aside this rare, bootleg record for Nabihah, knowing she's a huge Jimi Hendrix fan. The LP features a casual jam with other musicians, recorded around the time of his headline performance at Woodstock Festival in 1969. It was supplied with pamphlets from the US political organisation, the Black Panther Party - although there's no evidence Hendrix would've been aware of it (or the release of the recordings at all).
Track 6: Panhandler - Billy Cobham (from A Funky Thide of Sings)
Nabihah next pulls out a 1975 album by drummer, Billy Cobham - who featured on a number of important early jazz fusion records (including Miles Davis) before becoming an accomplished bandleader in his own right.
Track 7: Two Fish and Five Loaves Of Bread - Reverend C.L. Franklin
The next pick turns out to be spoken word - one of many recorded sermons from American Baptist minister and civil rights activist C. L. Franklin. His daughter, Aretha began her singing career singing gospel in his church - before becoming the "Queen of Soul".
Track 8: Bela Lugosi's Dead - Bauhaus
Nabihah next pulled out a 12" single by one of her favourite bands, Bauhaus, who are seen as pioneers of goth rock but realistically blend a number of genres. She explains how she accidentally discovered the track works just as well at 33rpm as it does at the intended 45rpm… right before Tom accidentally does exactly that!
Track 9: Give Me Back My Man - The B-52s
And for her final selection, Nabihah pulls out a 1980 single from The B-52s. She thinks the US new wave band are known by many for just a couple of songs (typically one being Love Shack) - but Nabihah says Give Me Back My Man is her favourite.
Last on
Music Played
Kevin Ayers

The Lady Rachel

Damon Albarn

Royal Morning Blue

Mahalia Jackson

We Shall Overcome
Broadcasts