Main content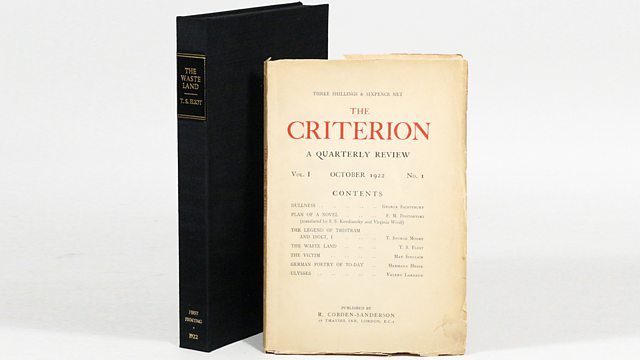 The Criterion, which published The Waste Land
Matthew Sweet and guests on the influence, that continues to this day, of the literary magazine The Criterion, which published TS Eliot's The Waste Land, and Proust, and Yeats.
1922: The Birth of Now - Ten programmes in which Matthew Sweet investigates objects and events from 1922, the crucial year for modernism, that have an impact today.
2. The Criterion. T. S. Eliot founded this literary magazine in which The Waste Land first appeared. It contained new voices - but some were speaking in the language of the dead. The Criterion also published Yeats and Proust, who were both interested in the occult, auras and voices from other worlds. Matthew Sweet explores some of the forgotten preoccupations of Modernism, such as the trauma of war, dirt, pollution and mysticism, that are still potent a century later, with writer Gary Lachman and critics including Lisa Mullen and Xine Yao.
Producer: Eliane Glaser
Readings: Neil McCaul and Michael Begley
Photograph courtesy of The Manhattan Rare Book Company
Last on
Broadcasts