Main content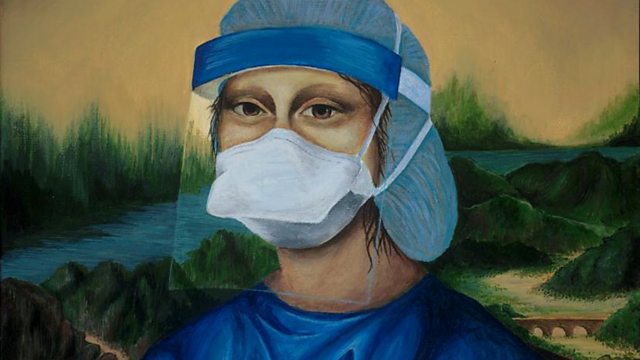 The Corona Lisa, Dr Koshka Duff, Magistrates and Revolutionary women
Emma speaks to Dr Koshka Duff about her treatment by the Metropolitan police back in 2013 and hears from nurse Chloe Slevin about her latest painting of the Corona Lisa.
Chloe Slevin, a 3rd year nursing student at University College Dublin has been painting well-known masterpieces - with a Covid-19 twist. First came 'The Girl with the Surgical Mask' after the famous 'Girl with the Pearl Earring' then she did a version of one of Michaelangelo's famous works. But her most recent painting is that of the 'Corona Lisa' - the Mona Lisa in full PPE and surgical mask, which she's auctioning off for LauraLynn, Ireland's only children's hospice. She joins Emma to talk about her paintings and what it's been like as a trainee nurse during the pandemic.
Emma speaks to Dr Koshka Duff who was detained in 2013 after offering a legal advice card to a black teenager during his stop-and-search. On CCTV footage, officers can be heard laughing about her hair, clothes and talking about her underwear. The Metropolitan Police have now apologised and paid the academic compensation for their "sexist, derogatory and unacceptable language".
The Ministry of Justice, this week, has announced an unprecedented recruitment drive, to boost the number of magistrates by 4,000. It's part of a £1 million campaign to make the magistracy more representative of the communities it serves. They're aiming to attract people from a wide range of backgrounds, from teachers, bricklayers, stay-at-home mums, and any individuals who can display reason and sound judgment. The step is expected to free up an estimated 1,700 extra days of Crown Court time annually and new recruits are expected to help tackle the backlog of criminal cases caused by the pandemic. Emma speaks to Amie Canham from North Yorkshire, a new Magistrate, as well as Bev Higgs, Chair of the Magistrates Association.
Women were contributing to the development of British politics and democracy long before they were agitating for the vote. Very few of them are well known today but all of them contributed something to the world we now inhabit, that's according to Nan Sloane who has written a history of radical, reformist and revolutionary women from the outbreak of the French Revolution in 1789 to the passing of the Great Reform Act in 1832. Her book is called Uncontrollable Women.
Last on
Broadcast

Podcast
Women's voices and women's lives - topical conversations to inform, challenge and inspire.