Main content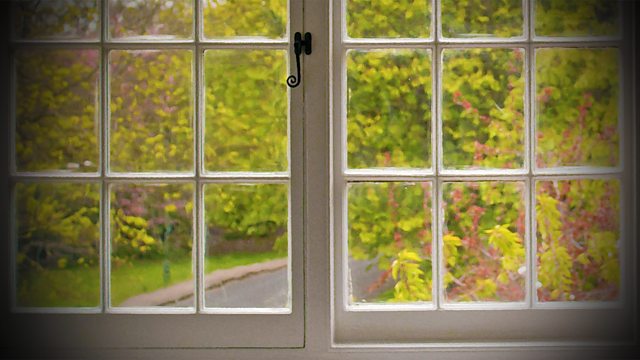 The Hidden History of the Window
For centuries, windows have been used for defence, light and air and to show status. Rachel Hurdley looks through them to discover what they reveal.
Rachel Hurdley opens the window on an architectural feature which reveals a story of conflict, hierarchy, status and ventilation.
The history of windows in our homes begins with simple openings, designed to let in some light and air but small enough to protect the occupants from intruders. Glass was rare and expensive so only the wealthiest could afford to show off their affluence with a display of glazed windows. But, as the technology of glass making developed, windows became larger and made a statement about sophistication and modernity.
Rachel traces the history of the window from the arrow loops of Chepstow Castle to the massive plate glass windows of the 20th century and beyond. She visits Gloucester Cathedral to admire a stained glass window which was said to be the largest in the world when it was created and discovers how its design reinforced the medieval social order. Rachel also goes back to the 1590s to find out why Hardwick Hall was described as 'More Glass Than Wall' and how its many windows were used to show off wealth and status.
She discovers how department stores with their tempting window displays brought about social change and played a part in female liberation and she considers why windows suddenly got so much bigger in the early years of the 20th century. Along the way, Rachel hears from the Poet Laureate, Simon Armitage, about how his lockdown window provided poetic inspiration and she reflects on the central question of the window – are we inside looking out or outside looking in?
Interviewees:
Sonia Solicari, Director of The Museum of the Home - https://www.museumofthehome.org.uk/
Jonathan Glancey, Architectural Writer and Historian
Kate Roberts, Chief Inspector of Ancient Monuments for Cadw speaking at Chepstow Castle https://cadw.gov.wales/visit/places-to-visit/chepstow-castle
Celia Thomson, Canon Chancellor of Gloucester Cathedral - https://gloucestercathedral.org.uk/
Denise Edwards, General Manager of Hardwick Hall - https://www.nationaltrust.org.uk/hardwick-hall
Deborah Sugg Ryan, Professor of Design History at Portsmouth University
David Scott, Tenant at The Homewood - https://www.nationaltrust.org.uk/the-homewood
Simon Armitage, The Poet Laureate
Presenter: Rachel Hurdley
Producer: Louise Adamson
Executive Producer: Samir Shah
A Juniper Connect production for BBC Radio 4
Last on
Seriously is home to the world's best audio documentaries. Introduced by Vanessa Kisuule.
Broadcast