Main content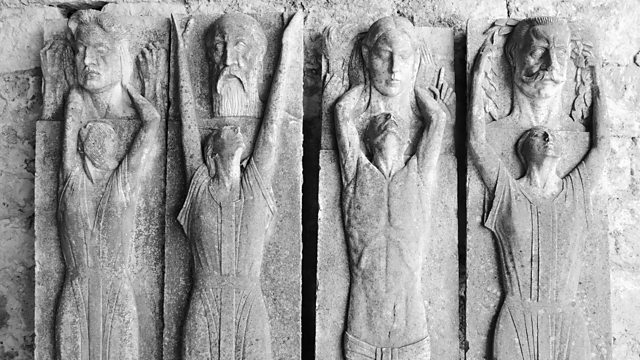 Musical Purgatories
On the 700th anniversary of Dante's death, Verity Sharp journeys through musical purgatories, sonic infernos and auditory visions of paradise.
The words of Dante Alighieri (d. 14th September 1321) have been central in shaping notions of Hell (Inferno), Purgatory (Purgatorio) and Paradise (Paradiso) in the West. A cornerstone of Italian literature and medieval theology, his Divine Comedy narrates the journey from damnation to grace, through encounters with saints and sinners and poets of the past. In the week of his death seven hundred years ago, Verity Sharp explores musical expressions of the struggle for the human soul, bringing together sounds from a variety of cultures and traditions. Noise artist Puce Mary offers a prayer to the "Ex-lady of delight"; Alasdair Roberts' account of The Lyke-Wake Dirge brings glimpses of heavenly harp amongst the sombre refrains; and separated by nine centuries, Tanya Tagaq and Hildegard von Bingen use the power of the voice to give expression to the soul's tribulations. Also in the show we've new creations from the inimitable jazz composer Henry Threadgill and high-energy dance music from Tanzania.
Produced by Phil Smith
A Reduced Listening production from BBC Radio 3
Last on
Music Played
Dos Santos

A Shot in the Dark

City of Mirrors.
International Anthem.

Puce Mary

I Pray For Deliverance, The Size Of My Desires

I Could Go Anywhere But Again I Go With You.
Posh Isolation.

Rakhi Singh

Dhūṛa

Quarry.
Bedroom Community.

Desire Marea

&

Griffit Vigo

Tavern Kween (Griffit Vigo Remix)

Scattered Purgatory 破地獄

Limbo Litter

Lost Ethnography of the Miscanthus Ocean.
Guruguru Brain.

Hildegard von Bingen

Symphonia et Ordo virtutum: O Euchari, in leta via

Performer: Elin Manahan Thomas. Orchestra: Orchestra of the Age of Enlightenment. Conductor: Harry Christophers.

Eternal Light.
Universal Music Classics & Jazz.

Tanya Tagaq

Ajaaja

Retribution.
Six Shooter Records.

Vera Kappeler

&

Peter Conradin Zumthor

Orthopedia Avantgarde

Alasdair Roberts

A Lyke Wake Dirge

No Earthly Man.
Drag City.

Lucy Canchimbo

Alabao: "Sábado de mañana" (Saturday morning)

Matteo Fargion

&

Andrea Spreafico

Canto 1

Bad Dante Bad English Bad Opera.

Henry Threadgill

Now And Then

Fimber Bravo

Call My Name

Lunar Tredd.
Moshi Moshi Records.

VARIÁT

Wake Up, Fire

I Can See Everything From Here.
Prostir.

MC Kono

Il Jini Song Wapi

Sounds of Pamoja.
Nyege Nyege Tapes.

Francesco Giannico

Primum Mobile

Les Mondes Imaginaires.
Time Released Sound.

Dark Star Safari

Patria

Walk Through Lightly.
Arjunamusic Records.

Glenn Astro

Flux

Purple.
Tartelet Records.

Nikki Sheth

Paddabolela

Sonic Mmabolela 2017.
Free Music Archive.

M. Ward

Migration Of Souls

Migration Stories.
Anti-.

Mary Lattimore

A Unicorn Catches A Falling Star In Heaven

A Unicorn Catches A Falling Star In Heaven.
Broadcast