Main content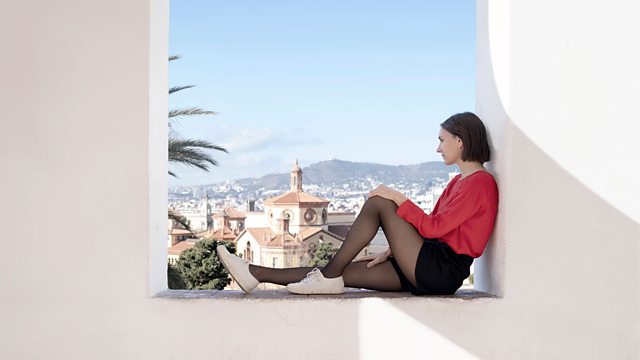 Colleen's Mixtape
Jennifer Lucy Allan shares a mixtape from French electronic composer and vocalist Colleen. Plus Californian garage-rock, Japanese cybernetics and joyful footwork from RP Boo.
Jennifer Lucy Allan shares a mixtape from French composer, multi-instrumentalist and vocalist Colleen, aka Cécile Schott. Over the last two decades, Colleen's sound has blended the electronic and the acoustic, bouncing between countless genres from folk, neoclassical and jazz to gamelan, dub and reggae, as well as manipulating samples of traditional music, field recording and film scores. In addition to her dreamy electronics, she often works with acoustic instruments such as the cello, classical guitar, organ, ukulele, music boxes and wind chimes. Her latest album The Tunnel and the Clearing, released in May this year, features swirling organs with analog electronics. Colleen's mixtape for Late Junction reflects her influences and appreciation for experimentation, with Japanese ambient techno, Mbuti vocal recordings, electronic organs from Niger and percussion from Colombia.
Elsewhere in the show, Jen selects some favourite releases old and new, from the lurching sounds of Heitkotter's Californian outsider garage-rock to the joyful footwork and infectious optimism of RP Boo. There'll be percussive fireworks from sound artist Vanessa Rossetto, and some cybernetic defiance from Japanese composer Henry Kawahara.
Produced by Katie Callin
A Reduced Listening Production for BBC Radio 3
Last on
Music Played
Ora Clementi

Magic Mountain

Sylva Sylvarum.
Black Truffle.

Fulu Miziki

OK Seke Bien (feat. Sekelembele)

Aşıq Nargilə

Dastani

Qərib Həyat.
Mountains of Tongues.

Space Afrika

<>

Honest Labour.
Dais Records.

Space Afrika

Noise Sweet

Honest Labour.
Dais Records.

Jean-Pierre Djeukam

Africa Iyo

Cameroon Garage Funk.
Analog Africa.

Colleen

Your Heart Is So Loud

Colleen et les boites a musique.
Leaf.

Shirley Collins

My sailor boy

Crowlink.
Domino Recording Co.

Leila Bordreuil & Zach Rowden

No.1

RP Boo

All My Life

Established!.
Planet Mu Records.

Marie Pierre

Can't Go Through With Life

Love Affair.
Dennis Bovell.

Privat

Unterhaltung

Ein Gedachtnis Rollt Sich Auf Der Zunge Aus.
Alter.

Susumu Yokota

Kodomotachi

Mbuti Pygmies of the Ituri Rainforest

Slit-Gong Signalling

Mbuti Pygmies of the Ituri Rainforest.

Shun

Tablebeat (Response version)

Backxwash

You Like My Body the Way It Is (Joni Void remix)

Mamman Sani

Arman Doley

Unreleased Tapes 1981​-​1984.
Sahel Sounds.

Abelardo Carbono

Palenque

Palenque Palenque: Champeta Criolla & Afro Roots in Colombia 1975 - 91.
Soundway Records.

The Igede Of Nigeria

Ota-ubah Instrumental

The Igede Of Nigeria - Drumming, Chanting And Exotic Percussion.
Music of the World.

Stina Nordenstam

Purple Rain

People Are Strange.
EastWest.

The Innocence Mission

At Lake Maureen

The Innocence Mission - At Lake Maureen.
Bella Union.

Henry Kawahara

Primitive Love (Genshi no ai)

Cybernetic Defiance and Orgasm: The Essential Henry Kawahara.
EM Records.

Koudede

Ewellan

Guitars From Agadez Vol. 7.
Sublime Frequencies.

Richard Youngs

Strange War-Mind Looks at World and it Withers

Blue Thirty-Nine.
Blue Tapes.

Pamela Z

He Says Yes (from Echo)

A Secret Code.
neuma records.

Vanessa Rossetto

Cant take that away from me

Legends Of American Theatre.
Regional Bears.

Stephen David Heitkotter

Hangin All Night

Black Orckid.
Now Again Records.
Broadcast