Main content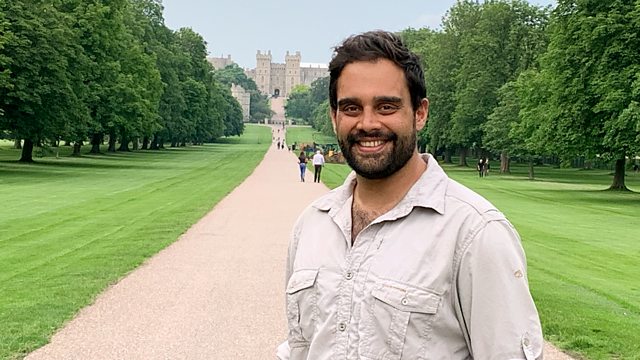 Windsor Great Park
Ash Bhardwaj visits Windsor Great Park, about twenty-five miles from central London, to explore its many different landscapes and wildlife habitats.
Travel writer Ash Bhardwaj revisits his childhood haunts at Windsor Great Park. The 16,000 acre park is only around twenty-five miles from central London, but has an impressive range of different landscapes and wildlife habitats - from traditional formal flowerbeds to ancient woodland, a deer park, farmland and even a site of special scientific interest. Ash meets the deputy ranger to learn about the history of the park, and finds out about the role played in its post-war evolution by the most recent head ranger, the late Duke of Edinburgh.
A conservation specialist from Natural England shows Ash how to tell the age of an oak tree by measuring its girth, and explains the intricate ecology of the rare species of fungi and insects which thrive in the wildlife habitats provided by the trees - some of which have been growing in the park since the time of the Norman Conquest. Ash also meets up with a florist whose choice of career was inspired and influenced by having spent so much of her own childhood playing among the park's shrubs and flowers, and he visits the stables that are home to the horses which pull carriages up and down the famous Long Walk, with its views of Windsor Castle.
The visit leads Ash to reflect on how much difference having access to Windsor Great Park made to him, growing up as he did in a garden-less flat above a restaurant. He concludes that the park was largely responsible for sparking his lifelong interest in the countryside and the natural world.
Produced by Emma Campbell
Last on
Broadcasts

Podcast
Countryside magazine featuring the people and wildlife that shape the landscape of Britain