Main content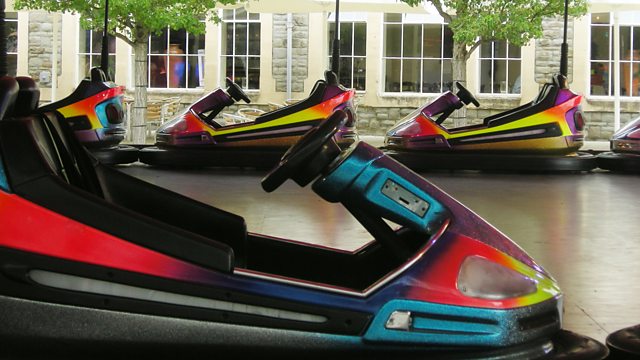 Sounds from Dirt Mounds and Dodgems
Verity Sharp shares music for intrepid listeners, from Anna Meredith's bumper car beats to sounds of dirt mounds in Arizona. Plus a new soundtrack for a Gaelic fishing community.
Verity Sharp serves up another two hours of music for intrepid listeners. There's bumper car beats from Anna Meredith, who has created an interactive sound installation using dodgems at Somerset House, and previously unheard recordings by legendary Bahamian guitarist Joseph Spence from 1965. There'll be music made with dirt mounds, as well as rakes, shovels and the wind, from Arizonan musician Ryan Wade Ruehlen, and recordings from an Andean ritual in Peru marking the one year anniversary of the death of Mrs. Sofía Miranda de Bellido.
Plus Aidan O'Rourke's new soundtrack for the film Iorram (Boat Song), the first cinematic documentary made entirely in the Gaelic language, which portrays fishing communities in the Outer Hebrides.
Produced by Katie Callin
A Reduced Listening Production for BBC Radio 3
Last on
Music Played
Joseph Spence

Out on the Rolling Sea

Encore: Unheard Recordings of Bahamian Guitar and Singing.
Smithsonian Folkways Recordings.

Thirsty Moon

Big City

Strain, Crack & Break: Music From The Nurse With Wound List Volume 2 (Germany).
Finders Keepers Records.

Hankel Bellido

Mamay Sofía

A Change of Mourning.
Death Is Not The End.

Hankel Bellido

Campana a Media Noche

A Change of Mourning.
Death Is Not The End.

Graham Lambkin

Glinkamix

Solos.
Blank Forms Editions.

Anna Meredith

Start engines

Marcus Schmickler

&

Julian Rohrhuber

Dedekind Cuts

Politiken Der Frequenz.
Editions Mego.

Falle Nioke

&

Ghost Culture

Leywole

Badiare EP.
PRAH Recordings.

Amadou Binta Konté

&

Tidiane Thiam

Kayraba

Waande Kadde.
Sahel Sounds.

Aidan O'Rourke

Fuadaichean nan Gaidheal / O Hó Hoireann ó, Tha Mi ann am Èiginn

Iorram (Boat Song) OST.
Reveal Records.

Kate Carr

frictions (water meets sand in Dover)

dawn, always new, often superb, inaugurates the return of the everyday.

Time Cow

&

Giark

Glory

Glory.
Kullijhan Records.

Fernando Vigueras

Arrullo, 2021

Henry Threadgill

&

Georgia Anne Muldrow

Clear and Distinct (Georgia Anne Muldrow Remix)

Double Up Plays Double Up Plus.
Pi Recordings.

Romperayo

Insurgentes carismáticos (llegaron los burros)

Gabriel Prokofiev

&

OpenSoundOrchestra

1, 2, 3, 4, 6. 5

Gabriel Prokofiev

&

OpenSoundOrchestra

Be Ready...

Ryan Wade Ruehlen

Tethered Air Zones

Wooden Ox Or Barew Music.
Unsilent Desert Press.

Martin Bakero

PROTOVERB

PROTOVERB.
ERRATUM MUSICAL.

Erlend Apneseth Trio

Lokk

RhaD

La chute dans le temps

METAMUSIC.
Unexplained Sounds Group.

James Batty

GLIMMER

Until I Set Him Free.
Blue Spiral Records.

Tia Blake And Her Folk-Group

Turtle Dove

Folksongs And Ballads.
SFP.

DEVO

Jocko Homo

Q: Are We Not Men? A: We Are Devo!.
Warner Bros. Records.
Broadcast