Main content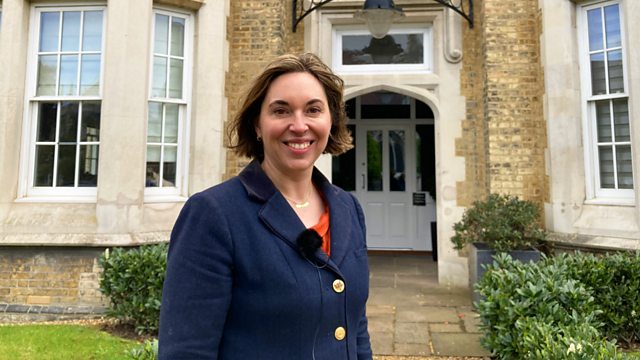 Unmouthed
What happens to a creative mind when it has everything taken away? Dr Kate Kennedy traces composer and poet Ivor Gurney's 15 years in an asylum, uncovering unseen poems and music.
What happens to a creative mind when it has everything taken away?
Many writers and composers are eccentric, some might even be labelled 'mad'. But that generally is not a bar to having their voice heard. Once an artist is certified insane however, the way in which their work is viewed changes forever. And their ability to share their creativity is taken from them in the most extreme way society offers.
Ivor Gurney, outrageously gifted composer and poet, lost everything when mental health problems saw him committed to an asylum after the First World War. A composer who had been considered one of the best of his generation would remain behind closed doors until his death.
Ivor Gurney was tricked into being certified, when a magistrate and two doctors were invited incognito to his house, and waited, reading the newspaper, for him to incriminate himself. They were about to leave, finding nothing odd about him, but just at the last minute, he approached the magistrate to ask if he might borrow a revolver with which to shoot himself. That one question set the course for the rest of his life. Being suicidal was enough to ensure incarceration in an asylum, and Gurney was never again a free man.
He had few visitors, and interest in his music and poems ebbed away.
But on a scrap of paper, hidden away in a box in an archive, you can see Gurney talking about music scores in his mental hospital room – he calls them 'poor unmouthed creatures'.
For 15 years, Gurney continued to write – hundreds of beautiful, moving, compelling and troubling works - which disappeared, unheard and unpublished.
In this programme, writer and broadcaster Dr Kate Kennedy travels to the asylum for the first time, seeing the buildings where Gurney spent his years and traces his journey inside. She gains access to Gurney's archives - discovering a treasure trove of lost compositions and poems. Words and music about the Gloucestershire landscape Gurney would never again see; about his mental state; about thoughts of suicide; about the devastating effects of war.
Together with poet Andrew Motion and musicologist Stephen Johnson, Kate Kennedy explores the lost works of Gurney. And we hear previously unheard songs which tenor Nicky Spence and pianist Dylan Perez rehearse and perform especially for the programme.
Through examining his manuscripts, we find Gurney being deprived of a pen, the tool of his trade. He was obliged to compose his poetry and music in pencil – a pen nib could be used to slash wrists. We chart his many attempts (some successful) to escape from the institutions that confined him. On one occasion he managed to get as far as Vaughan Williams's house, who was faced with the impossible situation of having to hand his own pupil over to the police.
Through conversations with asylum employees, we learn that Vaughan Williams and Arthur Benjamin actually regularly visited Gurney in the asylum to play through his latest compositions, all of which have been neglected since. We find one asylum doctor, Dr Anderson, who cared, and tried to help him (and interview his son), and others who undertook horrendous experiments on him, injecting him with malaria. In Gurney's medical notes, he is found to be two stone lighter, and 'on his knees, praying for death.'
The programme ends with his death from near-starvation and tuberculosis, alone and forgotten over Christmas of 1937.
Produced by Melvin Rickarby and Sara Conkey
A Must Try Softer Production
Last on
Broadcast