Main content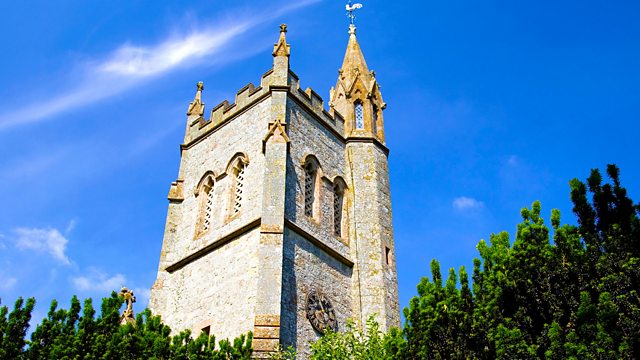 Woven
The Rev Michaela Youngson leads a service on Storytelling - God's Story, Our Story, Every Story, woven together because God is interested in the smallest detail of our lives.
The Revd Michaela Youngson leads a service on Storytelling - God's Story, Our Story, Every Story.
The London District Methodist Theme for 2019 - 2022 is Woven. An exploratory celebration of our story and God's story being woven together because God is interested in the smallest detail of our lives.
The theme of storytelling will be explored through testimonies, spoken word and popular Methodist hymns.
Producer: Alexa Good
Last on
Sunday Worship - Woven
The Revd Michaela Youngson
Good morning and welcome to worship.
MUSIC: How Deep the Father's Love (Instrumental) (Stuart Townend)
Elevation Music
John 1.1-3
In the beginning was the Word
and the Word was with God,
and the Word was God.
He was in the beginning with God.
All things came into being through him,
and without him not one thing came into being.
I'm Michaela Youngson and today I'm joined in leading worship by friends from the London District of the Methodist Church. Together we will tell our stories of God's love, and I hope that the strands of our stories will weave together with your own.
MUSIC: O For A Thousand Tongues To Sing
The Choir and Congregation of Methodist Central Hall
PRAYER
Gracious God,
You spoke creation into being
and have continued to tell the story of your love,
through the lives of children, women and men of every generation.
Through the life of your Son, Jesus Christ, you wove your own story into that of humanity,
by his life, death and resurrection, teaching us the power of love and grace.
Through your Holy Spirit, at work in the world and in the church,
you continue to inspire us to tell your stories and to live lives transformed by all that we have heard of you.
Be present with us in this time of worship, that we might hear your word and be inspired to live as those who tell your story through our actions as well as our words.
In the name of the story teller, Jesus Christ.
Amen.
Our worship today is inspired by 'Woven'.
Woven is a three-year project of the London District of the Methodist Church, and focuses on the power of storytelling to transform and renew Christians in our lifelong discipleship. The strapline for our theme is "God's Story; Your Story; Every Story", which recognises that everyone has a story to tell, and that we are all caught up in God's story of salvation and grace. The events that are part of Woven, celebrate people's stories and are inclusive opportunities for people to tell their stories of life, faith, hardship, healing and hope.
We know from scripture that there are many ways for stories to be told – through parables, psalms, prayers and poems. As part of the London Methodist District's Woven project we are hosting a series of poetry evenings called 'Tell it Again', where young adults can share their stories and listen to each other.  One of the guests who featured in our 'Tell It Again' evening last week, was Tremont Deigh, a Spoken Word Artist, who shares his thoughts on cancel culture.
SPOKEN WORD: Tremont Deigh
You're cancelled, you're finished you're done.
Listen go home sit down and retire you've had your fun.  All you had to do was keep quiet see staying silent would have kept you working.
But now it's a shame, because your careers over. And it's only just begun.
Cancel culture are coming after me saying you should stop breathing and none of my peers want to defend my character.
Because you never know these days.
Whatever. I go home and not a text or a phone call from la familia.
I guess they've become too familiar with the flashing lights and the buildings of the highest heights, forgetting about the days when we would laugh and go cinema.
Funny, from being the kid that were loved and everyone screaming you're the best.
To sitting alone at my desk.
Thinking, should I put this thing to rest.
Then I hear a voice and it says, keep going no matter what.
No matter what wave comes your way, keep going. I'll be your float in this boat so even if your arms get tired - just keep rowing.
Then I remembered I'm a child of God.
And even though these times seem odd.
I know my destiny so for the best of their beliefs society can't give me commands like I'm a dog.
So I'm going to prevail for my fans to see.
Because in this lifetime I plan to be one of the greatest because this life I'm living is a testimony. No longer a fantasy.
MUSIC: Come and Breathe
Lucy Grimble
Testimony has an important place in Christian tradition – it is an opportunity for someone to bear witness of their experience of God's love in their lives. Zarinna Mensah-Coker, tells her story of faith and her sense of God's leading her to her vocation, showing how God's love is woven into the pattern of our lives, even when it is not clear to us what the next chapter of the story is meant to be.
TESTIMONY - ZARINNA MENSAH-COKER
I realized that everybody around me knew what they wanted to do and I didn't, so as a result I just prayed a lot about it.  I felt as though God was saying just to trust him and that he would provide for me and then I think, a few days later, I saw this ad to work for a charity and through that charity, I was mentoring young kids.  And people around me would say "oh, maybe you should teach" and I'd always rejected that idea, but I was still praying about what to do and then again, I felt this strong sense of confirmation about teaching and, to be honest, I wasn't that happy about it, but I knew that this was a leading that just seemed bigger than me.
When I started actually training, that's when I fell in love with teaching.  So it wasn't something I always wanted to do, it wasn't something that I fell into, it was more that I just felt like I was being led to do it, and then in the end it turned out to be one of the greatest things I've ever done.
I think the most important thing is just building those relationships with the students - nobody said that one of the hardest things about teaching is going to be saying goodbye.
I think that when it comes to you know your own story you never see it being significant and I think for me my story is more about one of trusting God, and it was about taking a risk to do something you potentially wouldn't like and then to be completely surprised .
I didn't know 5 or 6 years ago that this is where I'd end up and this is what I'd love doing…it's just about trusting in God; he is a provider.
MUSIC: Happy Are the People
London Community Gospel Choir
The Weaver the Word and Wisdom by Rev. Michaela Youngson
            In the beginning, the Weaver, the Word and wisdom
            moving in relationship together,
            caught a vision of potential,
            a glimpse of possibility, and
            with tentative steps, creation's dance began.
            Creation was shot through with the generosity of the Weaver's grace.
            The rhythm of life's passion played loudly
            as a constant beat at the heart of myriad universes.
            Against this universal backdrop, the Word moved
            and became free, small and intimate.
            In the cry of a child, the song of a woman,
            and the shout of a dying man
            the Word's voice added melody to the Weaver's song.
            In the midst of confusion, absence and loss,
            Wisdom found her way.
            She had danced with the Weaver's threads, throughout all time,
            weaving a maypole dance of energetic passion.
            She added harmony to the beat and the melody
            and composed a symphony of colour.
            If creation for a single moment fails to hear the Weaver's rhythm,
            or misses the Word's intimate melody,
            then Wisdom will dance through the silence
            until all that is joins in love's rejoicing.
MUSIC: The Garden  Instrumental
Aled Jones
One of the ways stories are woven into our lives is through music – which has the story teller's skill to move us, change our mood, heal us or lead us to action. The Prophet Isaiah told a story in which he compared his people to an unproductive vineyard. Singer-songwriter Peter Moreton retells Isaiah's story.
MUSIC: My Loved One Had A Vineyard.
Peter Moreton.
The Revd Lynita Conradie. Lynita is a Methodist Minister, working in North West London, and she shares with us now her story of faith.
TESTIMONY - LYNITA CONRADIE
I kind of grew up knowing about God and knowing God.  It was always there and that would enable me to do things which otherwise might be really difficult.  When I started life as a Barrister in Cape Town and that was really about survival.  I did mainly public defender work and that taught me a great deal of different skills, not only litigation skills and how to conduct oneself in court, but also about people with whom one otherwise wouldn't associate, you  know, people that were gangsters because of the fact that they lived very difficult and threatened lives. So, it was a very  volatile environment, and so I think when I kind of got a great deal of insight into human nature.
I am blind, I can see, not at all, no light no darkness no nothing, but I hope it doesn't define me completely.  The reason why I would tell my story is to say to the world out there that one can be blind and live a life like anyone else and I believe I have had a very full life.  And secondly for people who you know for whom limitations are problem, say don't allow limitations to get in the way and, above all, don't allow other people to decide what you can and can't do.
I think my faith has obviously enabled me to deal with those frustrations to kind of ignore or go beyond the limitations which others placed on me, and so I'm sure that in my daily work and daily activities, I've no doubt that it was my faith that kept me going.  That doesn't mean that there wasn't sometimes doubts, but I think ultimately I'm sure that that my faith has sustained me.
MUSIC: Jubilate v. Be Thankful (Bob Chilcott)
The Oxford Choir
Jesus was an excellent story teller – he knew how to hold a crowd's attention, how to describe characters with whom the listeners were familiar, and, he knew how to put a twist in the tale that took everyone by surprise. An example of Jesus's skill as a story teller is shown in Matthew's gospel, where in Chapter 20, we find the parable of the workers in the vineyard.
BIBLE READING: MATTHEW 20: 1-16      
Reader Joseph Kingsley-Nyina
The Parable of the Workers in the Vineyard
20 "For the kingdom of heaven is like a landowner who went out early in the morning to hire workers for his vineyard. 2 He agreed to pay them a denarius[a] for the day and sent them into his vineyard.
3 "About nine in the morning he went out and saw others standing in the marketplace doing nothing. 4 He told them, 'You also go and work in my vineyard, and I will pay you whatever is right.' 5 So they went.
"He went out again about noon and about three in the afternoon and did the same thing. 6 About five in the afternoon he went out and found still others standing around. He asked them, 'Why have you been standing here all day long doing nothing?'
7 "'Because no one has hired us,' they answered.
"He said to them, 'You also go and work in my vineyard.'
8 "When evening came, the owner of the vineyard said to his foreman, 'Call the workers and pay them their wages, beginning with the last ones hired and going on to the first.'
9 "The workers who were hired about five in the afternoon came and each received a denarius. 10 So when those came who were hired first, they expected to receive more. But each one of them also received a denarius. 11 When they received it, they began to grumble against the landowner. 12 'These who were hired last worked only one hour,' they said, 'and you have made them equal to us who have borne the burden of the work and the heat of the day.'
13 "But he answered one of them, 'I am not being unfair to you, friend. Didn't you agree to work for a denarius? 14 Take your pay and go. I want to give the one who was hired last the same as I gave you. 15 Don't I have the right to do what I want with my own money? Or are you envious because I am generous?'
16 "So the last will be first, and the first will be last."
SERMON  
In our reading today, Jesus tells a story which may be familiar to many of us, particularly the words at the end that the first shall be last and the last shall be first. It stays with us, as any good story does because it surprises us. There seems to be an injustice built into the story and we might want to cry out, "but it's not fair!" Why should those who worked longest not be paid more than those who only worked for an hour? Jesus uses the powerful emotions evoked when hearing the story to embed his message of God's generous grace more deeply in the lives of those who hear it. He challenges the listener to put themselves in the shoes of each of the characters and to see life from their point of view, moving them towards empathy and to a way of seeing that will help them challenge the status quo. Jesus weaves together each character's perspective, with the expectations of the crowd and, by confounding those expectations, moves the listener on to a place where a new understanding of God's realm of grace becomes possible.
If I were to imagine myself as one of those chosen at the beginning of the day to work in the fields, I might feel proud that I've been chosen when others have not – perhaps I might notice that I'm privileged because I'm fit and healthy and known to be a good worker. Or I might just be relieved that I will receive a day's wages, which is just enough for myself and my family to live on. I can imagine that I would be furious to know that others have received the same as me, when I have been out in the vineyard during the heat of the day, working hard for my wages.
If I were to imagine myself as one of those chosen at the end of the day, I may see things differently. I was not terribly good at or enthusiastic about sport at school and I remember PE lessons, standing with my back to the wall, waiting for someone to pick me for their team. I was always chosen last and I wonder if this gives me an insight into the experience of the workers chosen last? I imagine that I have spent most of the day feeling rejected, unworthy of being offered work, I might wonder what it is about myself that means I don't get the job – am I not strong enough, do I have a reputation that means employers will not take me on? Perhaps I'm disabled, or a widow, a refugee; perhaps in the eyes of those with jobs to give out, I'm perceived  the wrong colour, the wrong gender, the wrong sexuality. I'll be relieved to be taken on, even for an hour or two, but I also know that I will not have earned enough to live on or to feed my family. Fear and self-loathing might mix with my relief, possibly even despair.
What a surprise when all are paid the same by the generous landowner! It's a bumper crop this year and he or she is grateful that they have found enough pickers to bring the harvest home. So the owner asks when challenged, what business is it of anyone else if she chooses to be generous with her wealth?
If we allow our imaginations to respond to the story, we are able to relate to the characters and enter into their experience. But as with all good story tellers, Jesus leaves us with more to think about, with questions to ask. Jesus tells the story to demonstrate what the kingdom of God is like – it is not the same as the human realm, so often marked by greed and a survival of the fittest approach to life, commerce and the structures of our society. Jesus wants the listeners to understand that what God longs for is that all are able to live a full life, in which all have what they need and understand they are part of a generous realm. So we move beyond empathy to ask questions about the barriers that prevent all people from thriving and, if we identify with Jesus and the stories he told, we become more generous and move to take action for the world we live in to be more just.
Often the landowner in the parable is identified as God and God's generosity to all is a reflection of God's love and grace to all people. If the daily wage was just enough to live on, then to give anyone less than the daily wage is to condemn them to death. Everything I have learnt of God, through scripture, through the teaching of the church and through my own experience of faith tells me that God condemns no one to death. God longs for all to have life and have life in its fullness. It matters not a jot how hard I work, I cannot earn my salvation, I'm saved not because of my actions but because of God's action of love. As a Christian, that is made clear to me in the life, death and resurrection of Jesus Christ. Sacrificial love and generous grace are the threads with which God weaves together the story of salvation from the moment of creation until the time when all things will be restored.
MUSIC: Take My Life and Let It Be
Geraldine Latty
PRAYERS
God of wisdom,
as your prophets of old called people to faithful living,
grant us the vision needed to change your world, through our prayers and actions.
Where voices of greed drown out the voices of the needy,
children die through malnutrition,
and nations remain devastated by the pandemic;
may we tell the story of your love,
may we pray with confidence
and may we act generously.
Where the sounds of war drown out the songs of peace,
fists and words are used to harm,
and people live in fear of abuse and pain;
may we tell the story of your peace,
may we pray with determination
and may we act courageously.
Where words of despair drown out poems of hope,
where prejudice and injustice diminish lives,
and people are wounded by narratives of hate,
may we tell the story of your hope,
may we pray with honesty
and may we act lovingly.
Our Father in heaven,
hallowed be your Name,
your kingdom come, your will be done,
on earth as in heaven. 
Give us today our daily bread. 
Forgive us our sins as we forgive those who sin against us. 
Save us from the time of trial and deliver us from evil. 
For the kingdom, the power and the glory are yours,
now and for ever.
Amen.
One of the ways our lives have been woven together over the last few months, is by gathering online, even forming choirs where the singers are miles apart. One of these choirs is the National Methodist Choir of Great Britain and they lead us in worship now as they sing Charles Wesley's great hymn, Love Divine, to a new tune by Howard Goodall.
MUSIC: Love Divine (Howard Goodall)
National Methodist Choir of Great Britain
BLESSING
May God,
who created you,
who redeemed you
and who sustains you,
Weave strands of love, grace and blessings
around you and those you love.
Amen.
Broadcast