Main content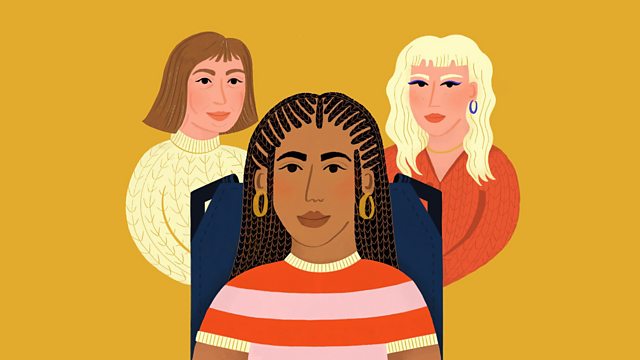 Jazz and Dice
A funny, warmhearted new drama about modern love and families, written by Leanne Allen, starring Claire Rushbrook, Carly Houston and Lucy Fallon.
Two teenage girls, best friends and lovers, anticipate their future together as one of them goes off to university, causing a rift between them. Nevaeh, also known as Dice, is secretly dating her best friend Jazz. When Jazz goes off to university, Dice is left heartbroken, and her mother is left to pick up the pieces.
A year later, Dice is moving on, having shed the shame around her queerness, when she finds out Jazz is engaged to a man she met at university. And she wants Dice to come to the wedding. Dice and her mother make the long drive to the occasion, for a dramatic finale. Will Jazz go through with her vows?
Starring Claire Rushbrook (Secrets and Lies, Home Front), Carly Houston (BBC 3 Crip Tales) and Lucy Fallon (Coronation Street), Jazz and Dice is a fresh funny drama with a big heart.
The play, by new writer Leanne Allen tackles love and families, with a witty, warm touch. Her protagonist is a wheelchair user (like Leanne) but the drama is not about disability, it's about love in the 21st century. Leanne first started writing in 2018 when she attended the Writing for Radio course at Moniack Mhor. Since then she has gone on to write for Naked Productions and Theatre of Debate. Connections was her first radio drama for community radio and BBC Radio 4, broadcast in 2020. Leanne's work with Theatre of Debate was part of the COVID And Me campaign by the National Institute for Health Research. The monologue was made public on the NIHR website in 9th July 2020 and shared widely across social media. Jazz and Dice is her first full length BBC Radio 4 commission.
Jazz and Dice is co-produced by Krishna Istha, a writer, comedian and performance artist making work about taboo or under-represented experiences of gender, race and sexual politics.
Cast:
Dice ..... Carly Houston
Jazz ..... Lucy Fallon
Laurie ..... Claire Rushbrook
Sat Nav/Registrar ..... Garry Robson
Production team:
Co-Directors/Co-Producers, Polly Thomas and Krishna Istha
Sound Recordist, Louis Blatherwick
Sound Designer, Paul Cargill
Illustration, Isobel Platt
Executive Producer, Eloise Whitmore
A Naked production for BBC Radio 4
Last on