Main content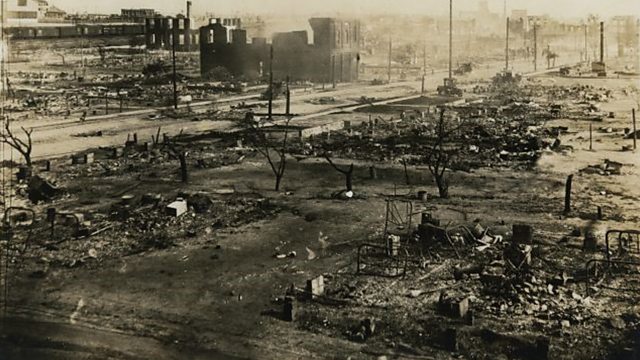 The Tulsa Tragedy that Shamed America
Alvin Hall tells the story of the 1921 Tulsa Race Massacre, one of the worst episodes of racial violence in US history.
Alvin Hall tells the story of the 1921 Tulsa Race Massacre, one of the worst episodes of racial violence in US history - using newspaper archives, manuscripts, oral history interviews, and local experts.
For many years this horrific event was suppressed, even Oklahomans didn't know about it. In the early 20th century, Tulsa was a wild west town which became a boom city. But the oil capital of the world was also home to the thriving and prosperous district of Greenwood - nicknamed Black Wall Street by Booker T Washington - because it was a mecca for Black entrepreneurs. Several were millionaires in today's money and and figured out ways to prosper during segregation, creating profitable businesses for Greenwood's 10,000 residents who couldn't spend their money with white businesses downtown.
On May 30th, a young Black shoe shiner Dick Rowland, was wrongly accused of attacking a white elevator operator Sarah Paige (the girl later recanted her story). This was the trigger, on May 31st and June 1st, for an armed white mob to loot and burn Greenwood, in a violent 16-hour attack.
It's impossible to know the true extent of the damage. Many estimate up to 300 Black citizens were killed. Over 1200 homes were destroyed, every church, hotel, shop, and business was completely wiped off the map. Almost $4 million in insurance claims were filed, but never paid since the city designated it a 'riot'.
Alvin examines the role of the local media in stoking up racial tension, the influence of the Ku Klux Klan, and how city officials instigated a cover up, while trying to prevent Greenwood's Black community from rebuilding so they could take the land. They resisted however, working and living initially in tents, and by the 1940s Greenwood was twice as prosperous, though this was ultimately short-lived.
The story of the massacre was then buried, documents were destroyed, and threats were issued. Local historians, brave survivors and their descendants, fought for decades to bring it into the open. Now, on the centennial of the massacre, Tulsa is grappling with its shameful past and opinions are divided on how to mark the anniversary, including the right to reparations.
Archival interviews by kind permission of the Oklahoma Historical Society, Oklahoma State University, Voices of Oklahoma oral history podcast, and White Plains Public Library NYC.
Made in collaboration with the Tri-City Collective - producers of Focus: Black Oklahoma on Tulsa Public Radio.
A Just Radio production for BBC Radio 4
Last on
Seriously is home to the world's best audio documentaries. Introduced by Vanessa Kisuule.
Broadcast