Main content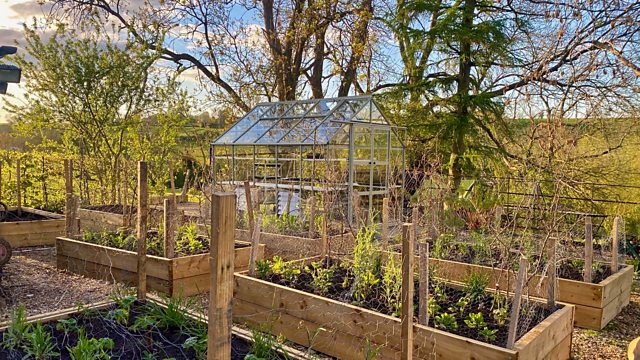 GQT at Home: Fish Tank Flowers and Gardening After Hours
Peter Gibbs hosts the show with a group of gardening experts.
Peter Gibbs hosts the show with a group of gardening experts. Bunny Guinness, Bob Flowerdew and Matthew Pottage answer questions from the virtual audience.
This week, the panellists tackle questions ranging from when you can first harvest your asparagus to what to plant in an old fish tank. They also solve the mystery of a funny-looking fungus, offer advice on regenerating a lawn which has been driven over, and share their favourite nighttime gardening activities.
Away from the questions, we revisit Matthew and Jane Wilson to hear more about their cut flower garden project, and Hafsah Hafeji gives us the ultimate guide for maximising a plot through companion planting.
Producer - Jemima Rathbone
Assistant Producer - Millie Chu
A Somethin' Else production for BBC Radio 4
Last on
Plant List
Q – A lorry ran over my lawn and left deep tyre marks – can I rescue my lawn?
(1 minute 20 seconds)
Q – I planted 20 asparagus crowns in April, can I pick them next year?
(5 minutes 55 seconds)
Q – I listen to GQT at night through the lambing season. When there's a quiet moment, I'll do a few gardening jobs, which got me thinking – is there anything that would benefit from being done at night?
(7 minutes 30 seconds)
Q – Can I use an old fish tank as an outdoor garden planter? If so, what can I plant in it?
(11 minutes)
Matthew – Cyperus involucratus
Thalia dealbata
Feature – Cut Flower Garden project with Matthew and Jane Wilson
(13minutes 50 seconds)
Q – In an attempt to make our plants go further, I've tried to grow from dogwood, Fuchsia and lavender cuttings, but all have failed. What have I done wrong?
(17 minutes 30 seconds)
Q – Can you identify this strange orange fungus?
(23 minutes 5 seconds)
Matthew – Yellow brain / Witch's butter fungus
Q – This spring, the veg seeds I sowed indoors grew to roughly 1cm but then stopped. What has happened?
(24 minutes 45 seconds)
Feature – Companion Planting with Hafsah Hafeji
(29 minutes 40 seconds)
Marigold
Nasturtium
Q – Please can the panel give me some suggestions for decorative, edible, easy-to-grow plants that could look attractive to plant in my raised veg bed? The bed is in full sun.
(35 minutes 55 seconds)
Matthew – Salvia Rosmarinus 'Severn Sea'
Viola cornuta 'Bowles Black'
Rosa 'The Fairy'
Bob – Thymus herba-barona
Marjoram
Q – Have the panel recently changed or adapted their gardening techniques, or do they believe that the old ways are the best?
(39 minutes 25 seconds)
Broadcasts