Main content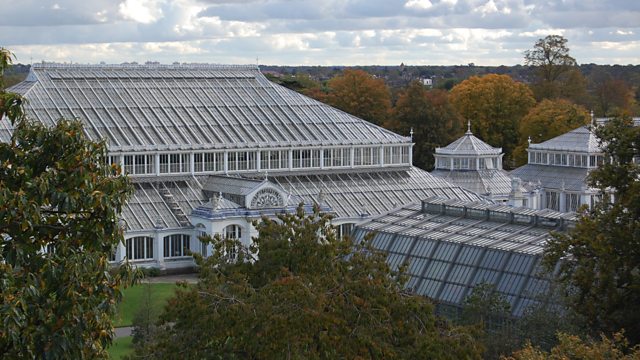 The Botanical Past
Christienna Fryar discusses new ways of looking at still life paintings and hears about archive research into plant collecting that is leading Kew to look at its history afresh.
Should Kew re-label its plants? What do you see when you study a still life painting on the gallery walls? How do nineteenth century authors depict deadly plants? New Generation Thinker Christienna Fryar discusses new ways of understanding British history through horticulture with her four guests:
Lauren Working, is one of the 2021 New Generation Thinkers. She has studied the Jamestown colony, and delivers a postcard about still life painting and its connection to the exotic luxuries of early empire building. Her book is called The Making of an Imperial Polity: Civility and America in the Jacobean Metropolis.
Katie Donington, has worked on a British botanist and plant collector George Hibbert who made his money from the plants on the sugar plantations, and then paid for specimens to be brought back to England from one of James Cook's expeditions.
Daisy Butcher, has edited a collection called The Botanical Gothic, which brings together 19th century stories about deadly plants, mostly plants brought back to the UK from far-flung parts of the world that turn out to be threatening.
Sharon Willoughby, head of interpretation at Kew Gardens, is looking at the way Kew presents its collections, starting for example, to use Chinese names for Chinese plants which were well known to Chinese scholars before the plant collectors arrived from countries including Britain to bring specimens to display here.
You might be interested in the Free Thinking discussion looking at Darwin's The Descent of Man https://www.bbc.co.uk/programmes/m000s31z
Napoleon the gardener and art thief is discussed by guests including biographer Ruth Scurr https://www.bbc.co.uk/programmes/m000vr1w
Trees of Knowledge hears from Peter Wohlleben and Emanuele Coccia https://www.bbc.co.uk/programmes/m0001nj1
And an upcoming episode of The Verb with Ian McMillan on June 11th will hear more from Peter Wohlleben and from poet Jason Allen-Paisant
We are also launching a podcast made in partnership with the Arts and Humanities Research Council - Green Thinking - which features academic research into the issues linking the climate challenge and society. You can find that on the Green Thinking playlist on our programme website https://www.bbc.co.uk/programmes/p07zg0r2
and available to download as the Arts & Ideas podcast.
New Generation Thinkers is a scheme run by BBC Radio 3 and the Arts and Humanities Research Council to work with academics to share their research on the radio.
Image: The Temperate House at The Royal Botanic Gardens, Kew
Credit: Paul Kerley / BBC
Last on
Broadcast