Main content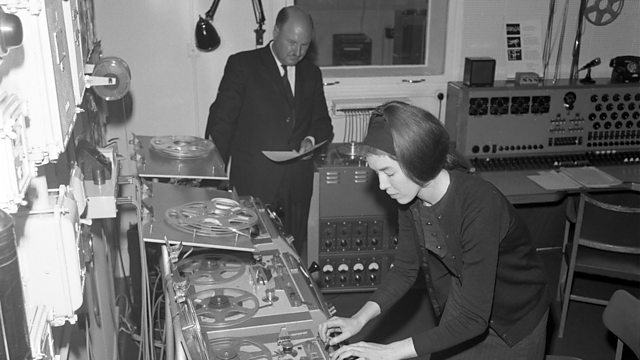 Caroline Catz on Delia Derbyshire
Stuart chats to the director of a new docudrama about pioneering electronic composer Delia Derbyshire. The featured album is Sonny Sharrock's 1969 album Black Woman.
Stuart chats to the director, writer and actress of a new BBC Four docudrama which explores pioneering electronic composer Delia Derbyshire's life and work. Titled 'Delia Derbyshire: The Myths and the Legendary Tapes', the experimental and intimate film features inventive recreated scenes starring Catz herself as well as interviews with Derbyshire's peers and collaborators, including Throbbing Gristle founding member and radical performance artist Cosey Fanni Tutti. Stuart hears about what it was like representing the cult figure and the challenges she faced in her career whilst working in the legendary BBC Radiophonic Workshop.
The featured album is American jazz guitarist Sonny Sharrock's 1969 debut album Black Woman. Recorded alongside his wife Linda who provides Yoko Ono-influenced vocals, the album also features an all star cast of New York-based free jazz musicians of the time including pianist Dave Burrell, drummer Milford Graves, trumpeter Teddy Daniel, and bassist Norris Jones amongst others. Black Woman is a hypnotic and psychedelic mix of manic guitar crescendos, dramatic trumpet solos, touches of eccentric country blues and bursts of melodic madness.
Plus, rural landscape-inspired organ compositions from Yorkshire, infectious experimental electro pop from Belgium and chilling abstract wind compositions made from hand-crafted ceramics.
Last on
Music Played
Black Mountain

Florian Saucer Attack

COBALT CHAPEL

Our Angel Polygon

Ståle Storløkken

First Sphere 

GHOST CARAVAN.
Hubro Music.

Sonny Sharrock

Black Woman

BLACK WOMAN.
Vortex Records.

MEER

Beehive

PLAYING HOUSE.
Karisma Records.

Aksak Maboul

Retour Chez A (Felix Rubin Remix)

The Space Lady

Major Tom

The Space Lady's Greatest Hits.
Night School.

Sonny Sharrock

Portrait Of Linda In Three Colours All Black

BLACK WOMAN.
Vortex Records.

Black Country, New Road

Opus

For the First Time.
Rough Trade.

Raz Ullah

My God, It's Full Of Stars

Test Transmission.
Blackford Hill.

BLK JKS

Yela Oh! 

ABANTU / BEFORE HUMANS.
Glitterbeat Records.

Coleen Apura Trinidad

Implosion / Explosion

THE TUNNEL AND THE CLEARING.
Thrill Jockey.

Deradoorian

 Saturnine Night

Jacco Gardner

Find Yourself

HYPNOPHOBIA.
Full Time Hobby.

Sonny Sharrock

Bialero

BLACK WOMAN.
Vortex Records.

OLIVER LEITH

Manicure

MEDUSA.
Accidental Records.

T2

No More White Horses

IT'LL ALL WORK OUT IN BOOMLAND.
Decca.
Broadcast