Main content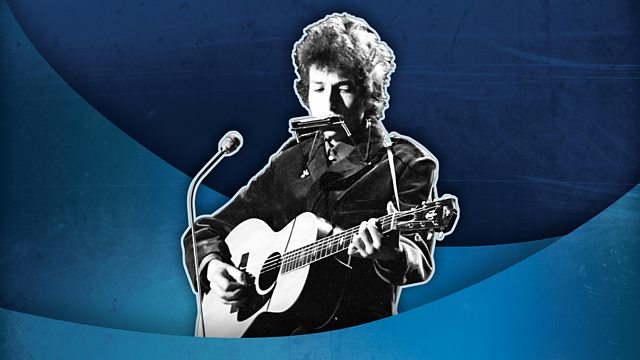 One: Learn Your Song Well (1941-1964)
Drawing on his songs and the Bob Dylan archive, Sean Latham's series on Dylan's life and music begins by placing him in a tradition of storytellers stretching back to Homer.
Marking his birthday on May 24th, Radio 4 broadcasts 'It Ain't Me You're Looking For: Bob Dylan at 80'. Presented by Sean Latham, Director of the Institute for Bob Dylan Studies at the University of Tulsa, and editor of 'The World of Bob Dylan', this five-part series looks at the songs and draws on the vast Bob Dylan Archive, exploring the life, work and influence of a great and elusive artist.
It argues that Dylan is a remarkable storyteller, impossible to ascribe to any genre or movement, steadfastly developing skills that rightly earned him the Nobel Prize in Literature.
Each episode focuses on a theme from a different period, encompassing his career.
• Learn Your Song Well (1941-1964)
• Bleeding Genius (1964-1966)
• Vanishing Acts (1966-1979)
• This Train (1979-1993)
• High Water Everywhere (1993-2021)
One: Learn Your Song Well (1941-1964)
In his Nobel acceptance speech, Dylan embeds himself in a tradition of performative storytelling extending from Homer. Odysseus is, Dylan says, "always being warned of things to come. Touching things he's told not to." Latham looks at 'A Hard Rain's A-Gonna Fall', about a young man committing himself to experiencing the joys and terrors of the world, then wrestling a story from them. Sixty years later, that still drives his creative life.
Early on Dylan made up stories about himself. He became a political songwriter by mixing his fictional autobiography with folk and blues to create stories of liberation. 'Blowin' in the Wind', its source in an anti-slavery song, becomes an anthem of the Civil Rights Movement. Dylan finds these stories constrictive and with 'Restless Farewell,' dramatically, and angrily, announces his shift from political to personal liberation.
Producer Julian May
Last on
Broadcasts