Main content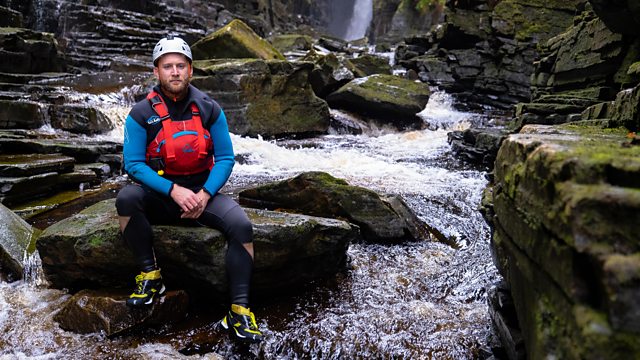 Eadar Taobhan Cas/Between Steep Sides
Tha Calum a' gabhail cuairt ann an Glòm a' Choire Shalaich ann taobh siar Siorrachd Rois. Calum Maclean is at one of the most spectacular gorges in Wester Ross - Corrieshalloch.
Anns an t-sreath seo, tha Calum MacIlleathain a' measgachadh an tlachd a bhitheas e faighinn a' rùileachadh diofar àiteachan agus a' togail dhealbhan. Le seallaidhean àlainn bho air feadh na h-Alba bidh gach prògram a' sealltainn Calum a' dol air turas shònraichte a tha a' tighinn gu crìch le cothrom dealbh àraid a chruthachadh.Tha Calum feumach air iomadach doighean-obrach airson na dealbhan a ghlacadh. Anns a' phrògram-sa, bidh Calum a' coiseachd anns an abhainn aig Glòm a' Choire Shalaich deagh chuid den latha, agus e an dòchas gum bi rud nò dhà ann a ghlacas a shùil.
Ach tha duilgheadasan roimhe leis gu bheil ballachan a' ghlòim cho àrd agus dìreach 'sa nach bi a' ghrian a-nochdadh ann ach gu h-obann. Nuair a nochdas cothrom airson dealbh, feumar a ghabhail..
Tha dealbh sònraichte na inntinn ach saoil ciamar a thig dha?
Intrepid Calum Maclean combines his love of exploring with photography. Featuring stunning locations from around Scotland - from the northern Highlands to the Borders, the Aberdeenshire coast to the islands of Argyll - each episode sees Calum embark on a unique journey that culminates in opportunities for special photos.
His mode of travel is as varied as the locations, all the while keeping his keen photographer's eye peeled for evocative shots employing different photographic techniques. Each episode features different cameras that Calum has chosen to use with his distinctive enthusiasm and flair!
In this episode, Calum walks up through the gorge at Corrieshalloch in Wester Ross, getting a different perpective of the steep banks so he he is keen to capture some special photos of this natural wonder.
In Gaelic with English subtitles
Clips