Main content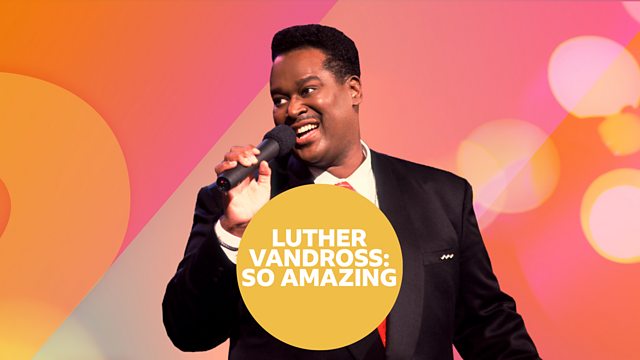 Luther Vandross: So Amazing
Gregory Porter celebrates the musical contribution and often overlooked legacy of Luther Vandross, forty years since the release of his debut album, 'Never Too Much'.
Forty years since the release of Luther Vandross' debut solo album, 'Never Too Much', he remains the gold standard for vocals, revered by musicians and fans alike. The album arrived in an era when disco was fading and hip-hop had not yet fully emerged. Luther, with his innate musicality and devotion to classic sixties voices, was the bridge between the shifting sonic landscapes of the 1980s, equally adept at laying his soul bare on a sensitive love song or showcasing his voice over a pulsating rhythm.
Grammy-winning producer Marcus Miller recalls, '…I would hear Never Too Much on the radio all day long…It was like Luther was an overnight sensation, although he had been doing his thing for at least ten years before.'
Whilst 'Never Too Much' and his iconic rendering of 'A House Is Not A Home' signalled a seemingly fresh talent, unbeknownst to most, Luther was an industry veteran. He had been sharing his talent in studios for many years, contributing to some of music's most significant moments through his work on David Bowie's 'Young Americans', CHIC's 'Everybody Dance' and providing vocals for the likes of Donna Summer, Chaka Khan and Roberta Flack. Nile Rodgers reveals that 'the best vocalist we knew was Luther Vandross…he basically invented our vocal sound'.
Encouraged by the likes of Bowie and Roberta Flack to emerge from behind the scenes, Luther battled against A&R departments initially disinterested in signing a black male solo artist set on writing and producing their own soulful, romantic songs and sending them to the top of the pop charts.
Grammy award-winning artist Gregory Porter reveals Luther's fascinating ascent and explores his lifelong determination to become a chart-topping singer, with his music reaching mainstream audiences; defying categorisation, simply appreciated by the widest audience possible for all the skill and technique it possessed.
Hearing directly from Luther's lifelong musical collaborators Fonzi Thornton, Carlos Alomar and Robin Clark, they reveal how Luther's focus was apparent right from their teenage years, as he cultivated them into a formidable group of musicians that he could depend on to create the particular sound that he envisioned for his solo career.
Such was the extraordinary life of Luther Vandross, he would end up becoming close friends with members of the very vocals groups he adored as a teenager, and we hear from The Bluebelles' Nona Hendryx and Whitney Houston's mother Cissy, lead singer of The Sweet Inspirations. 'We came from the same head I guess you could say' explains Cissy, who would go on to provide background vocals for Luther's songs throughout his career. 'He was such a wonderful vocalist and arranger'.
Nobody though embodied Luther's musical aspirations quite like Cissy's niece Dionne Warwick and, in a new interview, we hear from the lady herself, who shares her experiences of eventually working with Luther in the studio and what his adoration of her music meant to her. 'Luther was a very special person…he also became basically a part of family.' remembers Dionne.
As a solo artist, the eighties would bring many more highlights for Luther, including the record breaking achievement of becoming the first male solo artist to sell out ten nights at London's Wembley Arena in 1989. Luther remained frustrated however that his music never quite reached the top of the pop charts. Despite achieving seven consecutive U.S. RnB number one albums, it would be ten years into his solo career before Luther Vandross received his own Grammy award. As songwriter and collaborator Richard Marx observes 'If you look at all the songs this guy wrote…I feel that he didn't get recognised for that as much as he should of.'
It would actually be Luther's collaboration with Richard, 2003's poignant 'Dance With My Father' that saw Luther finally achieve his childhood dream, debuting at number one on the U.S. Billboard 200 album chart.
It had been a long and agonising path for Luther Vandross to navigate. His natural musical ability and sheer passion and drive to perform had enabled him to persevere and succeed whilst many around him failed to achieve the same heights. This intimate portrait celebrates Luther's tenacity and his impressive, often overlooked musical legacy.
Also featuring contributions from members of Luther's close musical family, including singers Lisa Fischer and Paulette McWilliams, former CHIC vocalist Alfa Anderson, studio engineer Michael Brauer, publicist Alan Edwards and soul music historian David Nathan, as well as musician Stokley and American Idol winner Ruben Studdard.
Producer - Jacob Pollard
A Sue Clark Production for BBC Radio 2
Last on
Broadcast