Main content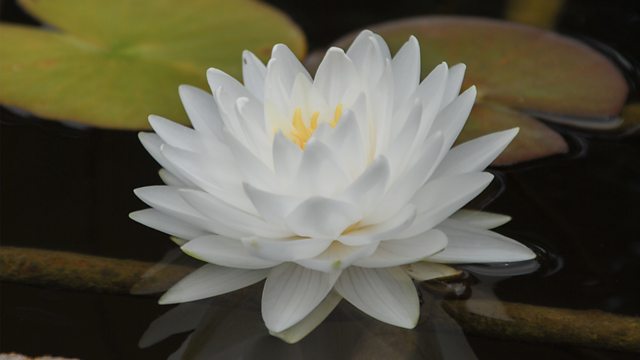 GQT at Home: Trampled Plots and Forget-me-nots
Kathy Clugston hosts the horticultural programme featuring a group of gardening experts.
Kathy Clugston hosts the horticultural programme featuring a group of gardening experts. This week, she's joined by Matt Biggs, Chris Beardshaw and Anne Swithinbank to answer questions sent in by green-fingered listeners on compost, wildlife ponds and the eternal battle between hoeing and weeding.
Away from the questions, Dr Chris Thorogood of the Oxford Botanic Garden tells you what to do in the event of unexpected frost, and garden designer Jacquie Felix Mitchell goes on a walk by the River Dart to seek inspiration for her garden.
Producer - Daniel Cocker
Assistant Producer - Millie Chu
A Somethin' Else production for BBC Radio 4
Last on
Plant List
Plant List
Questions and timecodes are below. Where applicable, plant names have been provided.
Q – I was told many years ago that to estimate the age of my oak tree, I needed to measure the circumference in centimetres and then multiply that number by 0.7 to give an approximate age. Do any of the team know if this is a reasonable method and, if so, what factor I should use for my beech and ash trees?
(1 minute, 11 seconds)
Q – My compost bin isn't really making decent compost. Any help would be very much appreciated.
(4 minutes, 46 seconds)
Q – Have read around the subject of chitting seed potatoes, I have removed any long, white straggly shoots before setting them to chit. My husband can't understand why you would remove growth that has already been made. Can the panel help resolve this difference of opinion?
(9 minutes, 3 seconds)
Q – I have a hydrangea in a pot that was showing lots of lovely early growth, but frost knocked it back and now I'm worried about its recovery.
(13 minutes 21 seconds)
Feature – Dr Chris Thorogood on frost and plant recovery
(14 minutes, 22 seconds)
Echium
Magnolia
Cordyline
Palm
Chris B –
Hydrangea sargentiana
Anne –
Chinese birch
Matt –
Camelia
Q – Please can you suggest any plants that can be walked on and used for paths instead of grass?
(19 minutes 55 seconds)
Anne –
Thymus serpyllum
Thymus 'Doone Valley'
Mentha requienii
Chris –
Sedum
Q – We moved to Brittany in France last summer and we're planning to build a small wildlife pond in our garden. Do you have recommendations for planting in a stagnant pond to keep it clean and healthy?  
(23 minutes, 26 seconds)
Anne –
Hydrocharis morsus ranae (Frogbit)
Caltha palustris (Marsh Marigold)
Water Forget-Me-Not
Watermint
Chris –
Iris robusta
Litherum
Iris pseudacorus (Yellow flag)
Persicaria bistorta
Feature – Jacquie Felix Mitchell on perfect planting schemes to reflect the local area
(28 minutes, 42 seconds)
Anemone nemorosa (Wood anemone)
Betula nigra
Viola riviniana
Blechnum spicant (Hard fern)
Q – I recently read hoeing is better than weeding.
(32 minutes, 34 seconds)
Q – Could you suggest any potato varieties that would make a good name for our child?
(37 minutes, 44 seconds)
Matt –
Potato 'Bambino'
Charlotte
Nicola
Nadine
Orla
Bonnie
Cara
King Edward
Anne –
Minerva
Merlin
Chris –
Ajax
Anya
Arran
Winston
Broadcasts