Main content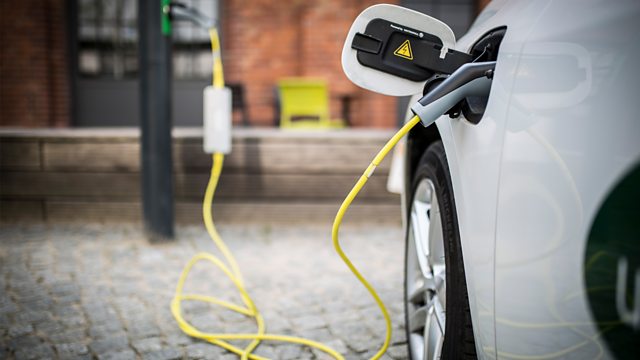 Fraud Repayments, Online Reliance and the Dangers of Plugging in a Car
Electric Vehicle charging cables strewn across pavements needs to be tackled says pedestrian pressure group and how the pandemic transformed our online world.
The pandemic transformed our online world . Many of us wouldn't have been able to do what we did without it. As much as some showed ingenuity and thrived it underlined how perilous a world the future could be for the 'unconnected' Baroness Martha Lane Fox leads a House of Lords report on the issue.
The net supercharged the gaming industry. Many of the world's top betting companies are based in the UK - an new BBC World service series investigates the global spread of gambling and the impact it is having on societies around the world.
Zoom is a word that well and truly entered our lexicon in the last year. Some 'Zoomers' and researchers discuss the video technology's impact and what role virtual communication may play in our lives in future.
The number of electric vehicle charging cables lying across public footpaths is on the up. It is reckoned that around 160k EV vehicle owners charge their cars on the street which is angering people who campaign on behalf of pedestrians.
Should bank's reveal how many of their customers who have been victims of fraud have been reimbursed.? The TSB do this and say other s should. It seems regulators may be about to side with them.
Last on
Chapters
Broadband - Martha Lane Fox

Broadband - Martha Lane Fox

Baroness Martha Lane Fox is chairing a committee that is trying to make broadband a legal

Duration: 06:36

Gambling laws

Gambling laws

A new documentary explores how gambling affects people in different countries

Duration: 08:34

Zoom face

Zoom face

Some 'Zoomers' and researchers discuss the video technology's impact

Duration: 08:25

Electric car chargers

Electric car chargers

Charging cars with cables on the street has angered people campaigning for pedestrians

Duration: 08:27

Fraud reimbursement

Fraud reimbursement

Should bank's reveal the number of customers they've reimbursed after fraud

Duration: 06:09

Broadcast