Main content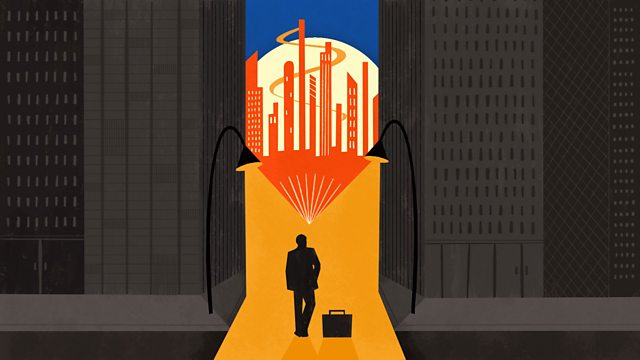 Killer
Dan Rebellato's bold new reimagining of Ionesco's absurdist classic as a modern thriller about liberal democracy in crisis. Starring Toby Jones, Christine Bottomley and Liz Carr.
Radio debut of Ionesco's second full-length drama, originally published in 1959, as Tueur San Gages, starring Toby Jones as Berringer, Ionesco's iconic Everyman hero, with Christine Bottomley and Liz Carr.
Killer (Tueur Sans Gages) is a fascinating, underappreciated piece of work, perhaps because it is so different from much of Ionesco's other work. In the 1950s it was considered rather cryptic and bleak (was it about fascism? Communism? Death itself?) and other, more flamboyant plays overshadowed it. It is ripe for rediscovery and reinvention, capturing the creative power and dramatic impact of the original productions – Ionesco updated for BBC Radio 3 in 2021.
Ionesco is an influential writer, often misrepresented by a tradition of performing him in an absurd, slightly cartoonish style, with jokey cod-philosophical interludes. This version of Ionesco has dominated, to the detriment of the inventiveness of his worlds and texture of his thinking. His deep-rooted political opposition to fascism and totalitarianism has often been missed. More recent revivals of his critical work are reframing how we view his work more boldly, with powerful contemporary resonance. For example, in 2019 Zinnie Harris reworked Rhinoceros to bring out how Ionesco addressed European fascism.
Dan Rebellato is a leading radio dramatist, whose last piece for Radio 3 with Naked Productions was a bold new version of Alfred de Musset's Lorenzaccio starring Tom Hughes, Toby Jones and Tanya Moodie. This new Ionesco production offers a bold analysis of political stagnation and impotence in thriller form, bringing Ionesco to the airwaves with contemporary resonance and verve. As with Lorenzaccio, this new version is true to the essence and tone of the original, whilst making it work for the listener in a sharp, contemporary adaption.
Killer is a stylish, contemporary thriller, where the 'crime' is the failure of democracy and the criminal is the atavistic violence that has always accompanied 'civilization' as its underside, its sponsor, its guilty secret. In 2021, the play speaks to the rise of European populism and Trumpian alt-right America; the contradictions of liberal democracy that allow these populist figures to emerge. The final sequence of the play, a liberal man confronting a murderer who is impervious to argument, evidence and logic has a striking resonance now.
As Sam Berringer, Toby Jones (Frost/Nixon, The Hunger Games, Sherlock and many BBC Radio 3 and 4 dramas) delivers a powerhouse performance, culminating in the epic final 15 minute speech where Berringer confronts the darkness of an apparently perfect society.
Killer is based on the play Tueur sans gages by Eugène Ionesco, published by Editions Gallimard.
The story
Sam Berringer, in pursuit of happiness, moves to the exquisite city of Radiance – he is delighted with his new home, and even happier when he meets and falls in love with Dani. But then he discovers there is a killer on the loose. The citizens seem reluctant to confront this threatening reality. He comes up against collective refusal to acknowledge the darkness, coupled with mindless group behaviour – clear parallels of societies struggling to deal with unpalatable political forces. An old friend, Edward, mysteriously appears in his apartment, handing over the Killer's briefcase…. Inevitably, Berringer becomes a prime suspect and has to flee an angry mob. He finds himself in a deserted alley – face to face with the real Killer….
The writer
Eugène Ionesco was a 20th-century Romanian-French playwright, one of the foremost figures of the French Avant-garde theatre. As well as ridiculing the most banal situations, Ionesco's plays depict the solitude and insignificance of human existence in a tangible way.
The dramatist
Dan Rebellato is a leading British radio dramatist, as well as a Professor of Contemporary Theatre at Royal Holloway London. He has written extensively for BBC Radio 3 and 4, most recently You & Me on Radio 4, as well as theatres such as Plymouth Drum, Suspect Culture and Graeae, and Pitlochry Festival Theatre. He has won Sonys and BBC Audio Awards for his radio dramas. He was lead writer on the blockbuster BBC Radio 4 Series, Emile Zola; Blood Sex and Money, starring Glenda Jackson. He has published several books, most recently co-editing Contemporary European Playwrights in 2020, and is currently writing a practical playwriting guide for the National Theatre, due out in 2021/22.
The cast
Sam Berringer ..... Toby Jones
The Architect ..... Liz Carr
Dani ..... Christine Bottomley
Edward/Killer ..... Toby Hadoke
Mother Goose/House ..... Amanda Wilkin
Police officer/Screen ..... Owen Whitelaw
The production team
Director/Producer, Polly Thomas
Recording engineer, Nick Scripps
Sound design/Producer, Eloise Whitmore
Executive Producer, Celia de Wolf
A Naked Production for BBC Radio 3
Last on
Broadcast