Main content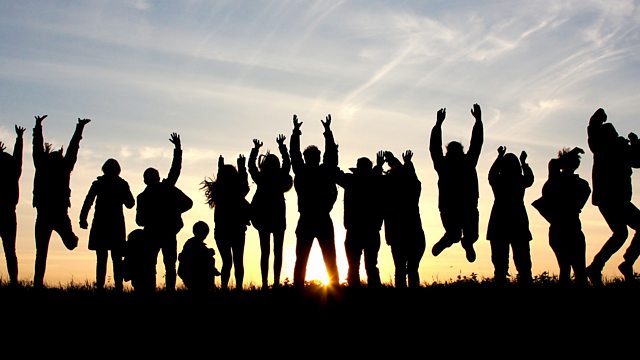 Coming of Age
From Romeo and Juliet to Naoise Dolan and Harry Potter. Plus the debut book from comedian Tez Ilyas, a performance by George the Poet and a winner of the Foyle Young Poets prize.
Josh O'Connor and Lydia Wilson with readings inspired by youthful experiences. Fresh from his role as Romeo for the National Theatre – a classic 'coming of age' story – The Crown's Josh O'Connor reads Shakespeare, James Joyce and Harry Potter. Lydia Wilson, star of the thriller Requiem, offers contemporary fiction from Naoise Dolan and Emma Cline, along with Dickens' bildungsroman David Copperfield, and a poem by Libby Russell, a past winner of the Foyle Young Poets Award run by the Poetry Society. Ted Hughes recites his own translation of Ovid in archive audio and Tez Ilyas reads from his Secret Diary of a British Muslim Aged 13 ¾.
The music includes Stravinsky's adolescent girls dancing the Rite of Spring, a Marian hymn from Palestrina, and Ravel's mythical young lovers, Daphnis et Chloé. Herbie Hancock, Rebecca Clarke and Felix Mendelssohn come of age as composers, while Patrick Doyle's film music shows Prince Hal turn into noble Henry V. The programme closes with Richard Strauss's Der Rosenkavalier: the Marschallin bids farewell to her lost youth, and wishes her lover happiness with his new young bride.
Producer: Hannah Sander
Readings:
Charles Dickens – David Copperfield
Mishnah 5:21
Tez Ilyas – The Secret Diary of a British Muslim Aged 13 ¾
CS Lewis – Prince Caspian
James Joyce – A Portrait of the Artist as a Young Man
Libby Russell – 'gaff'
Françoise Sagan – Bonjour Tristesse
Socrates (Plato) – 'The children now love luxury'
Margaret Mead – Coming of Age in Samoa
Evelyn Waugh – Brideshead Revisited
Shakespeare – Romeo and Juliet
Ted Hughes – 'Echo and Narcissus'
Naoise Dolan – Exciting Times
Thomas Morris – 'All the Boys'
JK Rowling – Harry Potter and the Deathly Hallows
Emma Cline – The Girls
Claude McKay – 'Adolescence'
Last on
Music Played
Timings (where shown) are from the start of the programme in hours and minutes
Charles Dickens

David Copperfield, read by Lydia Wilson

00:00

Sergei Prokofiev

Cinderella Suite No 1, Op 107

Orchestra: San Francisco Symphony. Conductor: Michael Tilson Thomas.

00:01

Sergei Prokofiev

Cinderella Suite No 1, Op 107

Orchestra: San Francisco Symphony. Conductor: Michael Tilson Thomas.

Mishnah 5:21

Read by Josh O'Connor

00:03

Johannes Brahms

Variations on a Theme by Haydn

Performer: Martha Argerich. Performer: Nelson Freire.

00:05

Johannes Brahms

Variations on a Theme by Haydn

Performer: Martha Argerich. Performer: Nelson Freire.

Tez Ilyas

The Secret Diary of a British Muslim Aged 13 3/4, read by Tez Ilyas

00:07

Giovanni Pierluigi da Palestrina

Ave regina coelorum - motet for 8 voices

Choir: The Sixteen. Conductor: Harry Christophers.

CS Lewis

Prince Caspian, read by Lydia Wilson

00:08

Giovanni Pierluigi da Palestrina

Ave regina caelorum

Choir: The Sixteen. Conductor: Harry Christophers.

James Joyce

A Portrait of the Artist as a Young Man, read by Josh O'Connor

00:11

David Bowie

Rebel Rebel

Performer: David Bowie.

EMI Records Limited, David Bowie: The Singles Collection CD1.
Tr11.

Libby Russell

gaff, ready by Lydia Wilson

00:12

David Bowie

Rebel Rebel

00:14

Herbie Hancock

Cantaloupe Island

Performer: Herbie Hancock (piano), Freddy Hubbard (trumpet), Ron Carter (double bass), Tony Williams (drums).

Blue Note CDP724382933120.
Tr1.

00:15

Herbie Hancock

Cantaloupe Island

Francoise Sagan

Bonjour Tristesse, read by Lydia Wilson

Plato (Socrates)

The children now love luxury, read by Lydia Wilson

Margaret Mead

Coming of Age in Samoa, read by Josh O'Connor

00:20

Igor Stravinsky

Cercles mystérieux des adolescentes, from The Rite of Spring

Orchestra: Simón Bolívar Symphony Orchestra. Conductor: Gustavo Dudamel.

00:21

Igor Stravinsky

The Rite of Spring

Orchestra: Simón Bolívar Symphony Orchestra. Conductor: Gustavo Dudamel.

00:23

Harry Middlebrooks

Spooky

Composer: Mike Shapiro. Lyricist: Buddy Buie. Lyricist: J. R. Cobb. Performer: Dusty Springfield.

Mercury Records Limited.
Tr24.

00:24

Dusty Springfield

Spooky

Evelyn Waugh

Brideshead Revisited, read by Josh O'Connor

00:26

Maurice Ravel

Sunrise from Daphnis et Chloé

Orchestra: Chicago Symphony Orchestra. Conductor: Bernard Haitink.

00:27

Maurice Ravel

Lever du Jour (Daphnis et Chloe)

Orchestra: Chicago Symphony Orchestra. Conductor: Bernard Haitink.

William Shakespeare

Romeo and Juliet, Act 1 sc. v, read by Josh O'Connor

Ovid, translated by Ted Hughes

Echo and Narcissus, read by Ted Hughes

00:33

Radiohead

Daydreaming

Performer: Radiohead.

00:35

Radiohead

Daydreaming

Naoise Dolan

Exciting Times, read by Lydia Wilson

00:37

Rebecca Clarke

Lullaby on an Ancient Irish Tune

Performer: Philip Dukes. Performer: Sophia Rahman.

00:39

Rebecca Clarke

Lullaby on an Ancient Irish Tune

Performer: Philip Dukes. Performer: Sophia Rahman.

00:40

Felix Mendelssohn

Overture to A Midsummer Night's Dream

Orchestra: London Symphony Orchestra. Conductor: Sir John Eliot Gardiner.

00:41

Felix Mendelssohn

Overture to A Midsummer Night's Dream

Orchestra: London Symphony Orchestra. Conductor: Sir John Eliot Gardiner.

Thomas Morris

All the Boys, read by Josh O'Connor

00:52

George the Poet

&

Maverick Sabre

Follow the Leader (acoustic version) (feat. Jorja Smith)

00:53

George the Poet

Follow the Leader

JK Rowling

Harry Potter and the Deathly Hallows, read by Josh O'Connor

00:56

Patrick Doyle

St Crispin's Day, from Henry V

Orchestra: City of Birmingham Symphony Orchestra. Conductor: Sir Simon Rattle.

00:58

Patrick Doyle

St Crispin's Day, from Henry V

Orchestra: City of Birmingham Symphony Orchestra. Conductor: Sir Simon Rattle.

Emma Cline

The Girls, read by Lydia Wilson

01:03

Neil Young

Old Man

Performer: Neil Young.

Warner Music UK Limited.
Tr2.

Claude McKay

Adolescence, read by Josh O'Connor

01:06

Richard Strauss

Hab' mir's gelobt from Der Rosenkavalier

Performer: Diana Damrau. Performer: Adrianne Pieczonka. Performer: Elīna Garanča. Orchestra: Staatskapelle Dresden. Conductor: Fabio Luisi.

DG 4779158, SIDE 16.
TR9.

01:07

Richard Strauss

Hab' mir's gelobt (Der Rosenkavalier)

Singer: Diana Damrau. Singer: Adrianne Pieczonka. Singer: Elīna Garanča. Orchestra: Dresden State Opera Orchestra. Conductor: Fabio Luisi.

Broadcast