Main content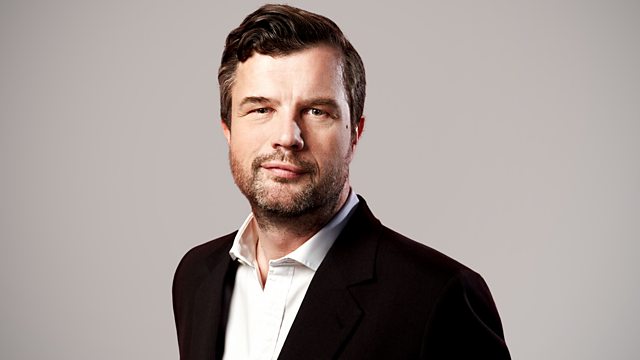 Thursday - Petroc's classical mix
Petroc Trelawny presents Radio 3's classical breakfast show, featuring listener requests.
Email 3breakfast@bbc.co.uk
Last on
Music Played
Ralph Vaughan Williams

Romance for violin and piano

Performer: Tasmin Little. Performer: Piers Lane.

Antonio Vivaldi

Trio Sonata in C major, RV 82

Performer: Avi Avital. Performer: Mahan Esfahani. Performer: Ophira Zakai. Performer: Patrick Sepec.

Joan Trimble

The Green Bough

Performer: Una Hunt. Performer: Roy Holmes.

Joan Trimble: Songs and Chamber Music.
Marco Polo.
13.

Johann Sebastian Bach

Prelude and fugue in C sharp minor BWV.873 (The Well-Tempered Clavier Book 2)

Music Arranger: Laurence Dreyfus. Ensemble: Phantasm.

The Well-Tempered Consort – II.
LINN.
5,6.

Cecilia McDowall

Adoro te devote

Choir: Choir of Trinity College, Cambridge. Singer: Lucy Sun. Conductor: Stephen Layton.

Frédéric Chopin

Étude in A flat, "Aeolian Harp"

Performer: Murray Perahia.

Henry Cowell

Aeolian Harp

Performer: Alan Feinberg.

The American Innovator - Alan Feinberg.
ARGO.
4.

Johann Friedrich Fasch

Quartet in F major

Performer: Peter Whelan. Ensemble: Ensemble Marsyas.

Ballaké Sissoko

&

Sona Jobarteh

Djourou

Nikolai Rimsky-Korsakov

Concerto for trombone and military band (1st mvt)

Performer: Christian Lindberg. Conductor: Chikara Imamura. Orchestra: Tokyo Kosei Wind Orchestra.

'Windpower': Christian Lindberg, Kosei Wind Orchestra.
BIS.
3.

Alex North

Cleopatra: Main title

Conductor: Alex North.

Cleopatra - soundtrack.
VARESE SARABANDE.
2.

John Foulds

April - England, Op 48 No 1

Performer: Kathryn Stott.

John Foulds: Piano Music.
BIS.
15.

Vernon Duke

April in Paris

Performer: André Previn. Lyricist: Yip Harburg. Singer: Dinah Shore.

Far Away Places: Capitol Sings Around The World.
Capitol Records.
14.

Louis Vierne

Naiades (Fantasy Pieces, Suite no.4 Op.55)

Performer: Olivier Latry.

Richard Wagner

Tannhäuser: Dich, teure Halle, grüss' ich wieder

Singer: Jessye Norman. Orchestra: London Philharmonic Orchestra. Conductor: Klaus Tennstedt.

Ludwig van Beethoven

Violin Sonata No. 5 in F Major, Op. 24 "Spring": I. Allegro

Performer: Frank Peter Zimmermann. Performer: Martin Helmchen.

Beethoven: Violin Sonatas Nos. 5-7.
BIS.
101.

Benjamin Britten

Spring Symphony (The Merry Cuckoo; Spring; The Driving Boy)

Singer: Robert Tear. Singer: Sheila Armstrong. Singer: Janet Baker. Choir: St. Clement Danes School Boys' Choir. Orchestra: London Symphony Orchestra. Choir: London Symphony Chorus. Conductor: André Previn.

Britten: Spring Symphony, Four Sea Interludes (Peter Grimes).
Warner Classics.
102.

François Couperin

Les baricades mistérieuses (Pièces de clavecin, Ordre no.6)

Performer: Jean Rondeau. Performer: Thomas Dunford.

Traditional American

Sinking of the Titanic

Composer: Richard Brown. Singer: Richard Brown.

Matchbox Bluesmaster Series MSESET1 Set1.
Matchbox Bluesmaster Series.
11.

Wolfgang Amadeus Mozart

The Marriage of Figaro (Overture)

Orchestra: Scottish Chamber Orchestra. Conductor: Charles Mackerras.

Orlando Gibbons

The Silver Swan

Performer: Christian Forshaw. Performer: Alexander Mason. Music Arranger: Christian Forshaw. Singer: Grace Davidson.

Joseph Haydn

Trumpet Concerto in E flat major, H.7e.1 (1st mvt)

Performer: Håkan Hardenberger. Orchestra: Academy of St Martin in the Fields. Conductor: Neville Marriner.

Haydn, Hummel etc: Trumpet Concertos: Hardenberger/Marriner.
Philips.
10.

Johann Sebastian Bach

Italian Concerto in F major, BWV 971 (1st mvt)

Performer: Sir András Schiff. Orchestra: Chamber Orchestra of Europe. Director: Sir András Schiff.

Piano Masterworks The World's Favourite Piano Classics.
Decca.
1.

Antonín Dvořák

Piano Quintet no.2 in A major Op.81 (4th mvt)

Performer: Stefan Vladar. Ensemble: Jerusalem Quartet.

Dvorak: Quatuor Op.95 'Americain'.
Harmonia Mundi.
8.
Broadcast