Main content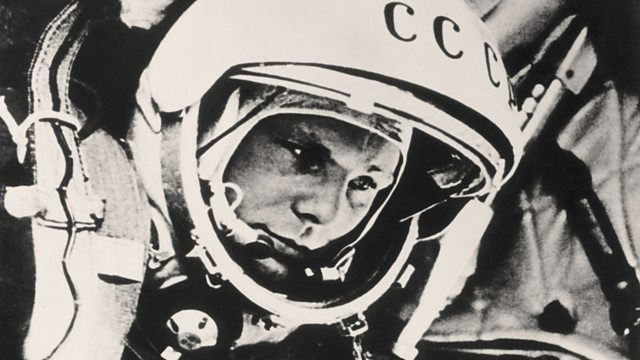 Gagarin and the lost Moon
60 years after Yuri Gagarin's historic orbit around the Earth, Kevin Fong tells the story of the first human spaceflight and how the Soviet Union led and then lost the Space Race.
On 12 April 1961, cosmonaut Yuri Gagarin became an explorer like none other before him, going faster and further than any human in history, into what had always been the impenetrable and infinite unknown.
Raised in poverty during the Second World War, the one-time foundry worker and a citizen of the Soviet Union became the first human to fly above the Earth in the vastness of space.
In doing so he became an instrument in The Cold War – an ideological battle between the superpowers: East versus West, communism versus democracy.
Dr Kevin Fong tells the story of how 27 year old Yuri Gagarin came to launch a new chapter in the history of exploration and follows the cosmonaut's one hour flight around the Earth.
The Soviet Union's triumph in 1961 was the event that galvanised the United States to win the Space Race: to send the first people on the Moon by the end of the decade. Yuri's own ambitions to voyage to the Moon were frustrated by his political masters, a faltering Soviet lunar space program and two tragic accidents.
As well as presenting archive recordings, Kevin talks to space historians and writers:
Tom Ellis, historian at the London School of Economics
Stephen Walker, author of 'Beyond'
Slava Gerovitch, author of Soviet Space Mythologies' and 'Voices of the Soviet Space Program'
Andrew Jenks, author of 'The Cosmonaut who couldn't stop smiling'
Cathleen Lewis, curator at the National Air and Space Museum
Actor Stewart Campbell is the voice of Yuri Gagarin. Tony Turner is Soviet space program founder Sergei Korolev. Nicholas Murchie is General Nicolai Kaminin, head of cosmonaut training.
Technical production is by Giles Aspen and Jackie Margerum.
Co-writer and producer: Andrew Luck-Baker of the BBC Radio Science Unit.
(Picture: Russian Cosmonaut Yuri Gagarin. Photo credit: Imagno/Getty Images.)
Last on