Main content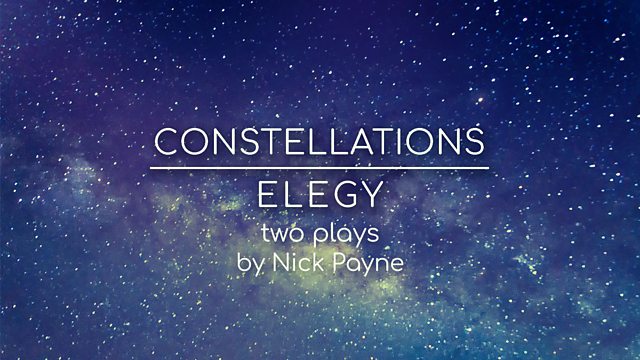 Constellations and Elegy
Two plays by Nick Payne, starring Gugu Mbatha-Raw, George MacKay, Juliet Stevenson, Deborah Findlay and Marilyn Nnadebe.
Over the last decade Nick Payne's plays have delighted audiences across the world. In this Drama on 3, we bring two of his most acclaimed and moving plays together for the first time. Constellations and Elegy both explore science, time and love.
Gugu Mbatha-Raw and George MacKay star in Constellations, a play about a relationship that plays out in multiple different ways in parallel universes. Marianne and Roland meet at a party. They hit it off, and go for a drink. Or do they? Perhaps they come together and their love story unfolds, or perhaps it's tragically cut short? The play explores how even the smallest change can significantly alter the course we take. It is a spellbinding exploration of the infinite possibility for heartbreak or for hope.
Marianne . . . . . Gugu Mbatha-Raw
Roland . . . . . George MacKay
The play was first performed in 2012 at the Royal Court and went on to win the Evening Standard Best Play Award as well as receiving a nomination for an Olivier Award for Best New Play. It has since been performed across the world.
Elegy stars Juliet Stevenson, Deborah Findlay and Marilyn Nnadebe. It's about a couple who have made a choice between love and survival. Lorna and Carrie met in later life and married. But now they are facing the possibility of their relationship disintegrating in the most painful way. Lorna's brain has been afflicted by an degenerative disease that will soon destroy her. Her partner Carrie is faced with a devastating decision: to submit her beloved wife to an experimental new treatment that risks completely erasing Lorna's memory of the relationship.
Lorna . . . . . Juliet Stevenson
Carrie . . . . . Deborah Findlay
Miriam . . . . . Marilyn Nnadebe
Elegy opened at the Donmar Warehouse in 2016 and was nominated for an Olivier Award for Best New Play.
Directed by Sasha Yevtushenko.
Last on
Broadcast

Featured in...
BBC Arts turns the spotlight on theatre with an unprecedented series of plays.