Main content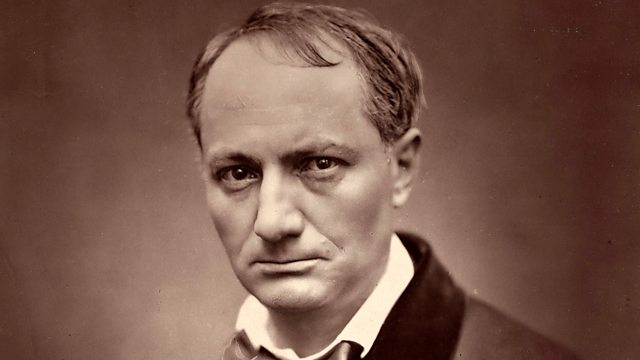 Should Feminists Read Baudelaire?
Poet and novelist Michèle Roberts investigates Baudelaire's alleged misogyny. How do we reconcile his passionate love of women with their violent treatment in poetry?
Charles Baudelaire, the great flaneur and dandy in black, who scandalised 19th century Paris, is the subject of this enquiry by poet, novelist and feminist Michèle Roberts. Being half French herself and a long time reader of Baudelaire's oplulent, often disquieting poetry, Michèle re-assesses his reputation 200 years after his birth.
"Get drunk! Stay drunk! On wine, virtue, poetry, whatever!"
Perhaps Baudelaire, the enfant terrible of French literature, is being read differently in France today, in the age of #metoo and its French equivalent #balancetonporc. Perhaps the question is even being asked: should feminists read Baudelaire? Is he, as #balancetonporc might say, a 'swine'? Should his work continue to be revered purely as the transcendent product of genius or should it be understood as rooted in a particular cultural moment, gendered by a particular cultural attitude? Even as we celebrate his birthday, do we notice his position in the canon wobbling a bit?
The programme brings together those who have been inspired by Baudelaire including poet John Cooper Clarke , the self styled 'Bargain Basement Baudelaire', American poet Kim Addonizio and Norwegian musician Susanna, who uses his decadent verse, his struggle with debauchery and goodness, as the lyrical backbone of her recent album.
We also hear from French journalist Muriel Zagha and publisher Cecille Lee, and from two of the most inspired Baudelaire academics Professors Helen Abbot and Maria Scott – ready to expose the poet to the fiercest of feminist critiques.
" Let us beware of common folk, of common sense, of sentiment, of inspiration, and of the obvious."
Presented By Michèle Roberts
Produced by Sara Jane Hall
A Just Radio production for BBC Radio 3.
Music including the premier of
Une Charogne - by Cheryl Frances-Hoad (composer)
Jess Dandy (contralto) Sholto Kynoch (piano)
Also, Baudelaire and Piano - by Susanna
Last on
Broadcast