Main content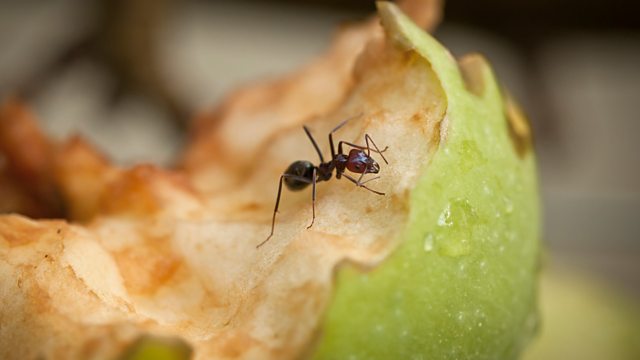 Sky Songs and Ant Music
Verity Sharp plays sci-fi music for ants, mechanical flirtations from Saint Abdullah and songs for the skies.
Verity Sharp plays music written 'strictly for insects to understand' by the Australian artist Eugene Carchesio. He describes his latest release as 'ant sci-fi' with most of the tracks clocking in at under a minute and featuring pulsating electronics. We also dip into the new album by the Chicago-based Damon Locks and Black Monument Ensemble. Written in the summer of 2020 and recorded in the garden behind their studio in a few takes, this was the first time the ensemble had ever played these songs and it captures their excitement to be working together again.
And as the days start to lengthen we look to the skies with a piece for the birds by Iranian-Canadian brothers Saint Abdullah and jazz-inflected throat singing by Tuvan singer Sainkho Namtchylak with her piece 'Who Stole The Sky'.
Produced by Katie Callin
A Reduced Listening Production for BBC Radio 3
Last on
Music Played
Infant

damp grale

face first in the entangled.
mappa.

Equiknoxx

Enter A Raffle Win A Falafel

Princess Nowedonah

Going Back In Time

The Enchanted Spring (An American Indian Legend).
Folkways Records.

Ivanka Cotrina

Yachag

Anthology Of Experimental Music From Peru.
Unexplained Sounds Group.

Nick Cave

&

The Bad Seeds

Anthrocene

Skeleton Tree.
Bad Seed Ltd..

Gazelle Twin

&

NYX

Glory

Deep England.
NYX Collective Records.

Saint Abdullah

The Birds Discuss The Journey (feat. John Butcher)

Mechanical Flirtations.
True Aether.

Sainkho Namtchylak

Who Stole The Sky?

Who Stole The Sky?.
Ponderosa Music & Art.

IR-Indigenous Resistance Sankara Future Dub Resurgence

When Visions Fall From Sky

Civil Disobedience Part 1​/​4.
Syrphe.

Khalab

&

M'berra Ensemble

Skit Guit

Hukwe Zawose

Mhilime magongo

Tanzanie - Chants Des Wagogo Et Des Kuria.
Inedit.

Anne Guthrie

Variation On Coral

Gyropedie.
Students of Decay.

Richard Greenan

Topple a River

Rehearsing Heat.
Kit Records.

Josh Hill

Happy Sounds Listener Submission

Andrew Plantagenet Summers

Happy Sounds Listener Submission

Phoebe McIndoe

Happy Sounds Listener Submission

David Bamford

Happy Sounds Listener Submission

Los Zheros

Para Chachita

Peru Maravilloso (Vintage Latin, Tropical And Cumbia).
Tiger's Milk Records.

Damon Locks

&

Black Monument Ensemble

Now (Forever Momentary Space)

NOW.
International Anthem Recording Co.

Eugene Carchesio

No Place I.XXIV

Katatonic Silentio

Erupting Soil

Bittissue.
Biodiversità Records.

Widow's Weeds

A Whisper In The Woods

Revenant.
Reverb Worship.

Annea Lockwood

Ground Of Being

Ground Of Being.
Recital.

Thefuries

Rage

Requiem for Survivors: Counterflows Performance.

Robbie Basho

Priest Spring Jazz

Songs Of The Avatars: The Lost Master Tapes.
Tompkins Square.

Lena Platonos

I Hide Myself Within My Flower

Hope Is The Thing With Feathers.

Ailie Ormston

&

Finlay Clark

Seeing Daylight

Sunflowers Face The Sun.
33 33.
Broadcast