Main content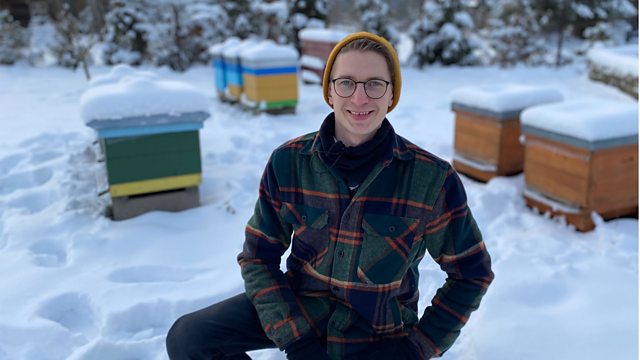 Telling the Bees
Set amidst the hives and across the seasons of this Covid-wracked year, Maria Margaronis gathers stories of the ancient custom of telling the bees of life's significant events.
Maria Margaronis surrenders to the life of the hive to explore the ancient folk customs around the telling the bees.
The lives of bees and humans have been linked ever since the first hominid tasted a wild hive's honey. Neither domesticated nor fully wild, honey bees are key to our survival, a barometer of our relationship with nature. Without them, we'd have no fruit, no nuts and seeds, and eventually, no food. No bees; no songbirds. Silent woods.
For centuries, we've projected stories and beliefs onto these strange, familiar creatures, seeing them as messengers between this world and the next. In this Covid-wracked year, Maria Margaronis explores the old customs of "telling the bees" about a death or significant event, lest they grow angry and leave us. She enters the sonic world of the hive to hear what the bees might be telling us in the company of wise bee guides like Toxteth's Rastafarian Barry Chang, Mississippi's Ali Pinion, Lithuania's Paulius Chockevicius and young beekeeper Zhivko Todorov in London's busy Finsbury Park. Others tells us and their bees their significant news. Follow bee tellers and bee callers on a seasonal journey from summer through winter into spring, tuning in to to the hum of the hive and the buzz of the universe.
Recorded binaurally.
Producer: Mark Burman
Additional bee recordings Mark Ferguson
Last on
Broadcast