Main content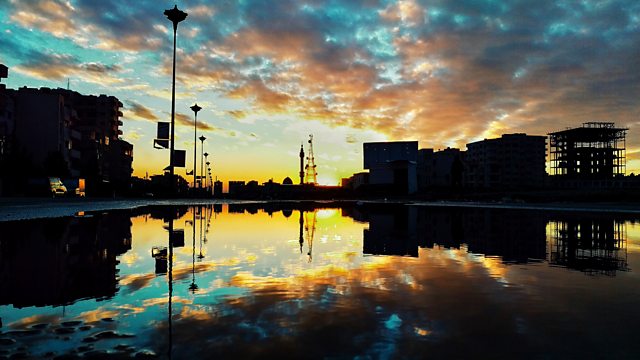 Syria: Hope and Poetry
Anne McElvoy talks to architect Marwa al-Sabouni, Kareem James Abu-Zeid, translator of Adonis, and to academic Adélie Chevée who looks at the media used by the Syrian opposition.
Two years of staying inside her own home in Homs, whilst 60 per cent of her neighbourhood was turned into rubble hasn't deterred architect Marwa al-Sabouni. She talks to Anne McElvoy about rebuilding and hope. Adélie Chevée researches the use of media by the Syrian opposition, and Kareem James Abu-Zeid is an Egyptian-American translator, editor, and writer who spent 16 years working on a version of Songs of Mihyar the Damascene by Adonis, a poem that has been compared to TS Eliot's The Wasteland.
Marwa al-Sabouni published The Battle for Home: The Vision of a Young Architect in Syria in 2016 and you can hear her talking to Free Thinking about Syrian Buildings https://www.bbc.co.uk/programmes/b076b15v
Since then she's recorded a TED talk How Syria's architecture laid the foundation for a brutal war, advised the World Economic Forum, written for the Wall St Journal and
is now publishing Building for Hope: Towards and Architecture of Belonging.
Adonis was born into a farming family who couldn't afford the cost of a formal education but after reciting a poem to the president of Syria visiting his region, the teenager was supported by the president and enrolled in a French high school. He is now a leading Arabic poet based in Paris, who uses free verse, and a variety of forms to explore themes of migration and exile. His book Songs of Mihyar the Damascene, with translations by Kareem James Abu-Zeid and Ivan Neubanks is a 200-page collection which has taken Kareem 16 years of work to bring to print.
Adélie Chevée is a political scientist and a Max Weber Fellow at the European University Institute. She has studied the use of media by the Syrian opposition and is now looking at the impact of fake news in Middle Eastern societies.
You can find a playlist called Belonging, Home, Borders and National Identity on the Free Thinking website which includes conversations about Pakistan, Turkey, Hong Kong, France, India, Sweden and more https://www.bbc.co.uk/programmes/p03mb66k
Producer: Torquil MacLeod
Image: Homs, Syria
Credit: Mohannad Alhamoud/EyeEm/Getty
Last on
Broadcast

Featured in...
Spying, peace negotiating & the power balance around the world, films, books, paintings

Discussions/interviews: Slavoj Žižek, Xinran, Ivan Klíma, Claudia Rankine, Pankaj Mishra