Main content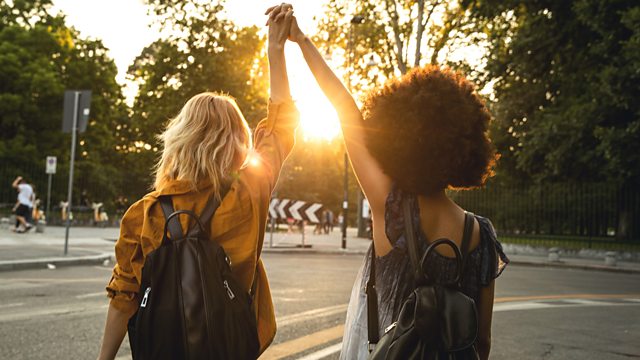 Girls
Tiffany Watt Smith, the author of the Book of Human Emotions, Elspeth Mitchell and Chisomo Kalinga, a Wellcome Trust researcher, join Shahidha Bari.
The films Cuties and Rocks present a contemporary image of girlhood. What do they tell us about what it is to be a girl and to negotiate growing up? We hear from three researchers who look at: the influence of such films made by female directors; the role of aunties in giving advice about health and the body; and the portrayal of female friendship in boarding school novels by authors like Enid Blyton. Shahidha Bari is joined by: Chisomo Kalinga, Tiffany Watt Smith, and Elspeth Mitchell.
Chisomo Kalinga is researching the way storytelling informs concepts of health and wellbeing in Malawi and has written about fictional portrayals and the idea of stereotypes. She is a Wellcome Trust Medical Humanities Fellow at the University of Edinburgh.
Elspeth Mitchell's Phd looked at 'the girl' and the moving image in work by Simone de Beauvoir, Chantal Akerman, and Eija-Liisa Ahtila. She is now researching feminine identities, costume, and burlesque at the University of Leeds.
Tiffany Watt-Smith is the author of books including The Book of Human Emotions, and Schadenfreude, and she is now researching women and friendship. She is Director of the Centre for the History of the Emotions at Queen Mary University London and is a New Generation Thinker - the scheme run by BBC Radio 3 and the Arts and Humanities Research Council to turn research into radio.
You can find a range of programming for International Women's Day on 8 March on BBC Radio 3, including a Words and Music playlist of readings and music exploring the idea of Women Walking Alone and a series of broadcasts featuring the work of women composers - part of an ongoing project BBC Radio 3 is running with the Arts and Humanities Research Council to record more music written by women, past and present.
In the Free Thinking archives there is a playlist which includes discussions about women in academia, the woman writer and reader, discrimination and British justice, women in war, and women's bodies - hearing from guests including Helena Kennedy, Layla AlAmmar, Kiley Reid, Helen Lewis, and Maaza Mengiste. https://www.bbc.co.uk/programmes/p084ttwp
Producer: Emma Wallace
Last on
Broadcast

Featured in...
Celebrating Black History Month with a curated playlist exploring Black history

Free thinking explores women's lives and issues.

From moral questions to the quirks and pleasures of life.