Main content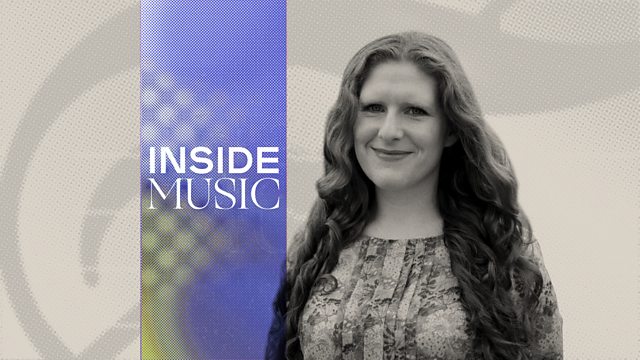 Composer Cheryl Frances-Hoad with music from Boccherini to Blur
Composer Cheryl Frances-Hoad opens up a colourful selection of music from the inside - revealing familiar and unfamiliar works in a new light.
Composer Cheryl Frances-Hoad lines up a freewheeling playlist full of energy, soulful melodies and adventurous sounds. Cheryl includes a track by Dave Brubeck that she spent hours transcribing as a young child, looks to James Macmillan as an example of how to write for percussion and is left devastated by the emotional power of Mozart's Requiem.
Cheryl also challenges you to identify a mysterious instrument...
A series in which each week a musician explores a selection of music - from the inside.
A Tandem Production for BBC Radio 3
Last on
Music Played
Cheryl Frances-Hoad

Play close attention

Performer: Christopher Jones. Performer: Gemma Sharples. Performer: Stephen Kay. Performer: Anna Menzies. Performer: Yshani Perinipanayagam.

Ferenc Santa

Lightning Czardas

Ensemble: Ferenc Santa Gypsy Band.

Wolfgang Amadeus Mozart

Requiem - Sequentia: Lacrymosa

Choir: Vienna State Opera Choir. Orchestra: Vienna Philharmonic. Conductor: Karl Böhm.

György Ligeti

Etude 4 - Fanfares

Performer: Thomas Hell.

Carl Nielsen

Helios Overture

Orchestra: Swedish Radio Symphony Orchestra. Conductor: Esa‐Pekka Salonen.

Dave Brubeck

Take Five

Ensemble: The Dave Brubeck Quartet.

Howard Skempton

Lento

Orchestra: BBC Symphony Orchestra. Conductor: Mark Wigglesworth.

Luigi Boccherini

String Quartet in B minor, Op. 58 No. 4 - Allegro molto

Ensemble: The Revolutionary Drawing Room.

Mike Oldfield

Tubular Bells - Part I (opening)

Performer: Mike Oldfield.

Sofia Gubaidulina

De Profundis

Performer: Elsbeth Moser.

Benjamin Britten

Tema Sacher

Performer: Alisa Weilerstein.

Henry Purcell

Remember not, Lord, our offences, Z. 50

Choir: Choir of Merton College, Oxford. Conductor: Peter Phillips.

Sir James MacMillan

Veni, Veni, Emmanuel (Dance)

Performer: Colin Currie. Orchestra: Ulster Orchestra. Conductor: Takuo Yuasa.

Lili Boulanger

Pie Jesu (for mezzo-soprano, organ and orchestra)

Performer: Jean-Jacques Grunenwald. Singer: Alain Fauquier. Orchestra: Orchestre Lamoureux. Conductor: Igor Markevitch.

Claude Debussy

Preludes Book I - La Cathdral Engloutie

Performer: Jean-Efflam Bavouzet.

Giovanni Battista Sammartini

Symphony in C J-C 4 - Allegrissimo

Ensemble: Aradia Ensemble. Conductor: Kevin Mallon.

Sergei Prokofiev

Cello Concertino Op. 132 - Andante

Performer: Lynn Harrell. Orchestra: Royal Philharmonic Orchestra. Conductor: Vladimir Ashkenazy.

Blur

The Universal

Performer: Blur.

Cheryl Frances-Hoad

Mazurka

Performer: Fenella Humphreys. Performer: Sholto Kynoch.
Broadcast