Main content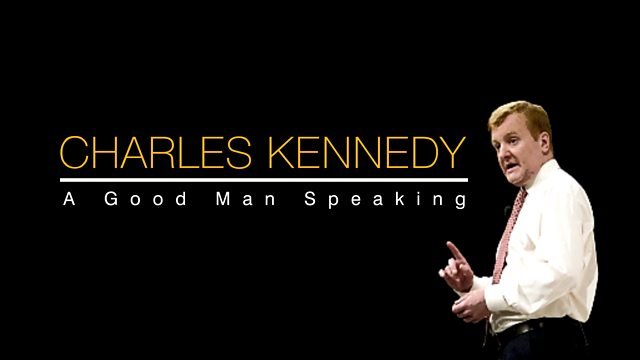 Tearlach Ceannadach/Charles Kennedy: A Good Man Speaking
Beatha Theàrlaich Cheannadaich is mar a thug a' Ghàidhealtachd buaidh air a' phoileataigs. A look at the life of Charles Kennedy and how his Highland upbringing influenced him.
A' sealltainn air beatha Theàrlaich Cheannadaich agus mar a thug togail san Ghàidhealtachd buaidh air a chuid phoileasaidhean. Cha robh Teàrlach Ceannadach ach 23 nuair a sheas e ann am farpais don raon-taghaidh Ros, Crombaidh is an t-Eilean Sgitheanach. Chaidh an latha le Teàrlach – toiseach dreuchd ann am poileataigs a mhaireadh 32 bliadhna.
Cha b' fhada gus an do dh'èirich Teàrlach na phàrtaidh fhèin, agus chaidh e na cheannard den phàrtaidh na Libearalaich-Deamocrataich. Ge b' e an e a bheachd air Cogadh Ioraig no iomairt gus carbadan-cadail eadar An Gearastan agus Lunnainn a ghlèidheadh, chum e ri prionnsapalan. Aig a' cheann thall b' e a strì gu pearsant ris an deoch a thug air a dhreuchd mar Cheannard fhàgail, ach cha do chuir e chùl ri a phàrtaidh. Seo eachdraidh de shàr-Ghàidheal, de ro-dhèidheileachd – eachdraidh de dh'fhear aig an robh fealla-dhà ach cuideachd aig an robh smior
A profile of Charles Kennedy and how his Highland upbringing influenced his life and politics. Charles was 23 when he stood for the Highland seat Ross, Cromarty and Skye. His victory began a 32-year career in politics.
Charles rose through the political ranks of his party and he went on to lead the merged party, the Liberal Democrats. However through those years, Charles never forgot his Lochaber roots. From his stance on the 2003 Iraq War to the fight to save the Fort William Sleeper, he stood on principle. Ultimately his battle with alcoholism forced his resignation as leader but he never gave up on the party or his constituents. This is a story of addiction, but mainly of a humorous Highlander who had heart.
In Gaelic with English subtitles