Main content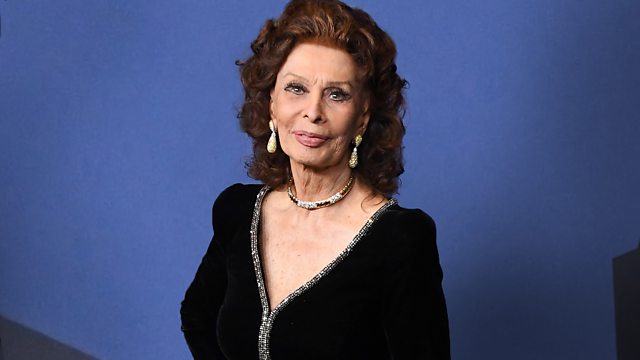 Sophia Loren
Sophia Loren shares the eight tracks, book and luxury item she would take with her if cast away to a desert island. With Lauren Laverne.
Sophia Loren is the first performer to win the Best Actress Academy Award for a role in a foreign language film. She won in 1962 for her performance in Vittorio De Sica's film Two Women in which she played a mother trying to protect her 12-year-old daughter in war-torn Italy. In 1991, she picked up a second Oscar when the Academy presented her with an Honorary Award for her contribution to world cinema.
Born Sofia Villani Scicolone in a hospital ward for unmarried mothers, she was brought up by a single mother in Pozzuoli near Naples during the war years. After success in her first beauty pageant at the age of 15 and starring in photo romance stories for popular magazines, she first came to wider attention in 1953 when she played the title role in the Italian film Aida.
She played a pizza seller in De Sica's The Gold of Naples which is regarded as her breakthrough performance and led to her working on Hollywood movies with a who's who of co-stars including Cary Grant, Frank Sinatra, Gregory Peck and Paul Newman. Her most enduring on-screen partnership was with the Italian actor Marcello Mastroianni.
In 1966 she married the film producer Carlo Ponti and went on to have two children. In her most recent film The Life Ahead, directed by her son Edoardo Ponti, she plays a holocaust survivor and ex-prostitute who cares for the children of local sex workers.
DISC ONE: I've Got You Under My Skin by Ella Fitzgerald
DISC TWO: Debussy: Suite bergamasque, L.75 - 3. Clair de lune composed by Claude Debussy, performed by Tamás Vásáry
DISC THREE: Lara Says Goodbye to Yuri by Maurice Jarre
DISC FOUR: Fly Me To The Moon (In Other Words) by Frank Sinatra with The Count Basie Orchestra, directed by Quincy Jones
DISC FIVE: Oggi Sono Io by Mina
DISC SIX: The Marketplace at Limoges composed by Modest Petrovich Mussorgsky, performed by Russian National Orchestra, conducted by Carlo Ponti
DISC SEVEN: Io Sì by Laura Pausini
DISC EIGHT: Caruso by Lucio Dalla
BOOK CHOICE: Letters from a Young Father by Edoardo Ponti
LUXURY ITEM: A pizza oven
CASTAWAY'S FAVOURITE: Caruso by Lucio Dalla
Presenter Lauren Laverne
Producer Paula McGinley
Last on
The icon of the cinema screen shares her castaway stories.
Music Played
Ella Fitzgerald

I've Got You Under My Skin

Ella Fitzgerald: The Cole Porter Songbook, Volume 2.
Polydor Limited.
14.

Claude Debussy

Debussy: Suite bergamasque, L.75 - 3. Clair de lune

Performer: Tamás Vásáry.

50 Piano Masterworks.
Decca (UMO).
22.

Maurice Jarre

Lara Says Goodbye to Yuri

Doctor Zhivago: Original Motion Picture Soundtrack.
Rhino UK.
3.

Frank Sinatra

Fly Me To The Moon (In Other Words)

Nothing But The Best.
Warner Music UK Limited.
8.

Modest Mussorgsky

The Marketplace at Limoges

Orchestra: Russian National Orchestra. Conductor: Carlo Ponti.

Pictures At An Exhibition; Night on Bare Mountain.
Pentatone Music.
11.

Laura Pausini

Io Sì (Seen)

The Life Ahead (La vita davanti a sé).
WM Italy.
1.

Lucio Dalla

Caruso

DallAmeriCaruso.
RCA Records Label.
1.
Broadcasts