Main content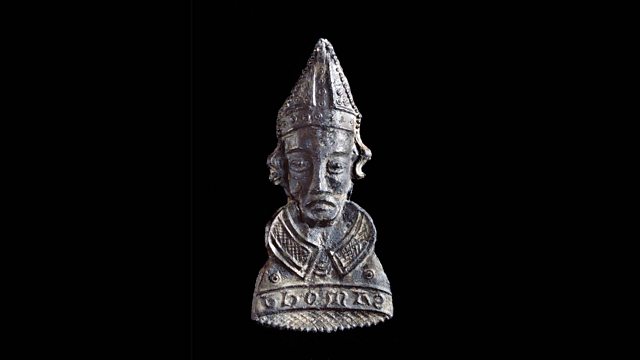 Medieval Pilgrimage
Melvyn Bragg and guests discuss the rise of pilgrimage for Christians in Europe in the Middle Ages and options for those who could only imagine pilgrimages and imitate them at home
Melvyn Bragg and guests discuss the idea and experience of Christian pilgrimage in Europe from the 12th to the 15th centuries, which figured so strongly in the imagination of the age. For those able and willing to travel, there were countless destinations from Jerusalem, Rome and Santiago de Compostela to the smaller local shrines associated with miracles and relics of the saints. Meanwhile, for those unable or not allowed to travel there were journeys of the mind, inspired by guidebooks that would tell the faithful how many steps they could take around their homes to replicate the walk to the main destinations in Rome and the Holy Land, passing paintings of the places on their route.
The image above is of a badge of St Thomas of Canterbury, worn by pilgrims who had journeyed to his shrine.
With
Miri Rubin
Professor of Medieval and Early Modern History at Queen Mary, University of London
Kathryn Rudy
Professor of Art History at the University of St Andrews
And
Anthony Bale
Professor of Medieval Studies and Dean of the School of Arts at Birkbeck, University of London
Producer: Simon Tillotson
Last on
LINKS AND FURTHER READING
CONTRIBUTORS:
Miri Rubin at Queen Mary University of London
Kathryn Rudy at the University of St Andrews
Anthony Bale at Birkbeck, University of London
READING LIST:
Robert Bartlett,
Why Can the Dead Do Such Great Things?: Saints and Worshippers from the Martyrs to the Reformation
(Princeton University Press, 2015)
Nicole Chareyron (trans. W. Donald Wilson),
Pilgrimage to Jerusalem in Later Middle Ages
(Columbia University Press, 2005)
Patrick J. Geary,
Furta Sacra: Thefts of Relics in the Central Middle Ages
(Princeton University Press, 1991)
Margery Kempe (trans. Anthony Bale),
The Book of Margery Kempe
(Oxford University Press, 2015)
Ian Reader,
Pilgrimage: A Very Short Introduction
(Oxford University Press, 2015)
Kathryn M. Rudy,
Virtual Pilgrimages in the Convent: Imagining Jerusalem in the Late Middle Ages
(Brepols Publishers, 2011)
Jonathan Sumption,
Pilgrimage: An Image of Mediaeval Religion
(Rowman & Littlefield, 1975)
Diana Webb,
Pilgrims and Pilgrimage in the Medieval West
(Tauris, 2001)
Brett Edward Whalen,
Pilgrimage in the Middle Ages: A Reader
(University of Toronto Press, 2011)
RELATED LINKS:
'Flights of Distance, Time and Fancy: Women Pilgrims and their Journeys in English Medieval Miracle Narratives' by Anne E. Bailey – Wiley Online Library
Broadcasts

Featured in...
Browse the Medieval era within the In Our Time archive.

Discussion of religious movements and the theories and individuals behind them.