Main content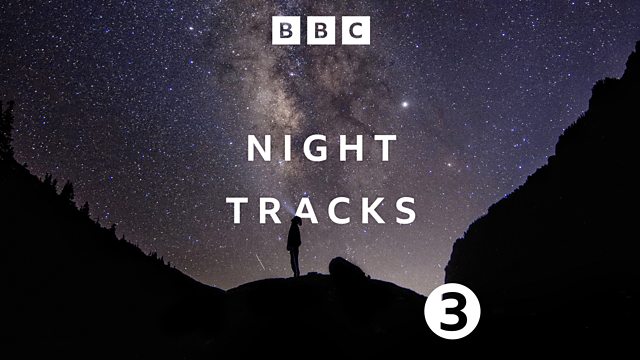 Music for midnight
Sara Mohr-Pietsch presents an adventurous, immersive soundtrack for late-night listening, from classical to contemporary and everything in between.
Last on
Music Played
Laura Cannell

Harts Blood

Composer: Kate Ellis. Performer: Laura Cannell. Performer: Kate Ellis.

January Sounds.
Brawl Records.
3.

Johann Sebastian Bach

French Suite No.5 in G BWV 816 Sarabande arranged for accordion

Performer: Vincent van Amsterdam.

Red, Dark and Blue.
7 Mountain Records.
3.

Jonny Nash

Bumi

Composer: Teguh Permana. Performer: Jonny Nash. Performer: Teguh Permana.

Trad.

Sometimes I Feel Like A Motherless Child

Composer: Odetta. Performer: Odetta.

Anonymous

Confitebor tibi Domine

Ensemble: Contrapunctus. Director: Owen Rees.

Elori Saxl

Wave I

Performer: Elori Saxl.

The Blue of Distance.
Western Vinyl.
3.

Paul Ben-Haim

Sonata a Tre for Mandolin, Guitar, Harpsichord: II. Lentamente recitando

Performer: Avi Avital. Performer: Sean Shibe. Performer: Yizhar Karshon.

Shane Cooper

Static mvt 7&8 [from Happenstance]

Performer: Shane Cooper.

John Dowland

Flow my tears arranged for viola d'amore and cello

Performer: Garth Knox. Performer: Sylvain Lemêtre.

Khyam Allami

Naghmat Tahrir (Tahrir's Theme)

Performer: Khyam Allami.

Carl Nielsen

Canto serioso, FS 132

Performer: Alec Frank-Gemmill. Performer: Daniel Grimwood.

Jordan Dykstra

Ghosting No. 3

Performer: Nadya Potemkina. Performer: Jordan Dykstra. Performer: J.P.A. Falzone. Performer: Dave Scanlon.

The Arrow of Time.
New World Records.
2.

Hugo Wolf

Nun laß uns Frieden schließen

Performer: Christian Gerhaher. Performer: Gerold Huber.

Trad.

Hopkers Vals

Performer: Björn Ståbi. Performer: Per Gudmundson.

Setes – Dalarna.
Four Leaf Clover Records.
4.

Hanna Tuulikki

Birch

Performer: Hanna Tuulikki.

Joseph Haydn

String Quartet No. 63 in B-Flat Major, Op. 76 No. 4, "Sunrise": II. Adagio

Ensemble: Doric String Quartet.

Andrew Chalk

Skagafjörður [extract]

Composer: Timo van Luijk. Performer: Andrew Chalk. Performer: Timo van Luijk.

Night of the Experimental Film IV.
B.A.A.D.M..
1.

Benjamin Britten

Holiday Diary, Op. 5: IV. Night

Performer: Stephen Hough.

Lucie Treacher

North Sea Fields

Performer: Lucie Treacher.
Broadcast