Main content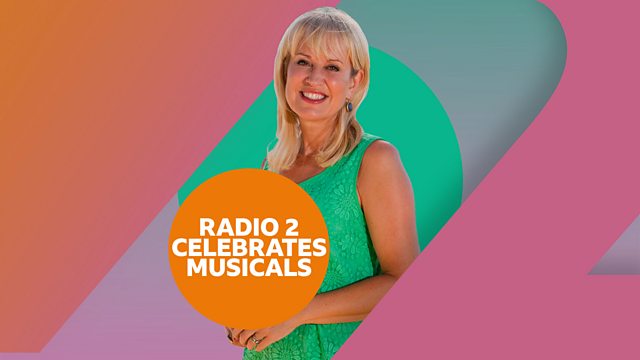 Musicals special with Mel C, Jason Manford and YolanDa Brown
Nicki welcomes stage and screen star Jason Manford, award winner (for Jesus Christ Superstar) Melanie C and musician and double MOBO award YolanDa Brown to celebrate Musicals.
As part of Radio 2's celebrations of Musicals, Nicki welcomes her old friend Mel C - no stranger to music and the stage with her huge world wide Spice Girls and solo tours, work as a judge on the talent show Superstar and subsequent award winning role in Jesus Christ Superstar. Melanie was so inspired that she also recorded an album of musical theatre songs - Stages in 2012.
Jason Manford has appeared in Sweeney Todd, The Producers, Chitty Chitty Bang Bang and Guys and Dolls along with his work on the comedy circuit and on television. Jason has been nominated for a Perrier award in Edinburgh, been on the Royal Variety Show, came second on The Masked Singer, reached the Top 10 with his album of musical favourites and runs a comedy club with his brother.
Double MOBO Award winning musician and broadcaster YolanDa Brown has appeared in the CBeebies Panto and hosted Radio 2 Early Breakfast show. YolanDa is on a mission to promote music education in primary schools. She also has a new album out - YolanDa's Band Jam - based on her hugely popular CBeebies television show, which has been described as the Jools Holland equivalent for children. YolanDa is also one of our premier female saxophonists, known for her fusion of reggae, jazz and soul. She has presented at the BBC Proms and toured with The Temptations, Billy Ocean and The Royal Philharmonic Concert Orchestra, as well as playing with Rick Astley and Kelly Jones on Jool's Annual Hootenanny.
Nicki also plays The Greatest Record Ever Made...But Rarely Played, dips into The Chappers Collection to feature an artist she has worked with in the past and asks jounalist Sophie Harris to take our minds off the news in Nicki's Escape Club.
Last on
Music Played
Kim Wilde

Kids In America

Fantastic 80's Disc 2 (Various Artis.
Columbia.

Steps

To The Beat Of My Heart

What The Future Holds.
BMG Rights Management (UK).

Taylor Swift

Shake It Off

(CD Single).
Big Machine.
1.

Melanie C

Into You

Melanie C (Deluxe).
Red Girl.
1.

The Soup Dragons

I'm Free (feat. Junior Reid)

Weekender - Various Artists.
Columbia.

Jason Derulo

Lifestyle (feat. Adam Levine)

Olivia Newton‐John

&

Electric Light Orchestra

Xanadu

Light Years - The Very Best Of ELO.
Epic.

Julie Andrews

&

The Children Of The Sound Of Music

The Lonely Goatherd

The Sound Of Music.
Decca.
9.

Otto

Tell Me Something (I Don't Know)

Post.
Bay Street Records.
1.

Blondie

Hanging On The Telephone

Atomic: The Very Best Of Blondie.
EMI.
1.

Depeche Mode

Just Can't Get Enough

Me Without You O.S.T. - Various.
Columbia.

MAX

Blueberry Eyes (feat. SUGA)

(CD Single).
Colour Vision Records.

Bee Gees

How Deep Is Your Love

Bee Gees - Their Greatest Hits.
Polydor.

Buffy Sainte‐Marie

The Big Ones Get Away

All Woman 2 (Various Artists).
Quality Television.

Marisha Wallace

Before I Go (Radio 2 House Music, 28 Jan 2021)

The Cure

In Between Days

The Cure - Staring At The Sea.
Fiction.

Queen

I Want To Break Free

Queen - Greatest Hits II.
Parlophone.

Gwen Guthrie

Ain't Nothin' Goin' On But The Rent

Now 1986 (Various Artists).
Now.

Don Henley

The Boys Of Summer

Armin van Buuren

Feel Something (feat. Duncan Laurence)

(CD Single).
Armada Music.

Will Smith

Gettin' Jiggy Wit It

Olivia Rodrigo

drivers licence

YolanDa Brown

Animal Bop

YolanDa's Band Jam.
Sony Music.
1.

Tori Kelly

Don't You Worry 'Bout A Thing

Sing (Original Motion Picture Soundtrack).
(P) 2016 Universal Studios and Republic Records, a division of UMG Recordings, Inc..
15.

Louis Prima

,

Phil Harris

&

Bruce Reitherman

I Wan'na Be Like You (The Monkey Song)

Disney's Greatest Hits.
BMG.

Phil Collins

In the Air Tonight

Phil Collins - Face Value.
Virgin.

Smith & Burrows

Parliament Hill

Only Smith & Burrows Is Good Enough.
PIAS Recordings.
5.
Broadcast