Main content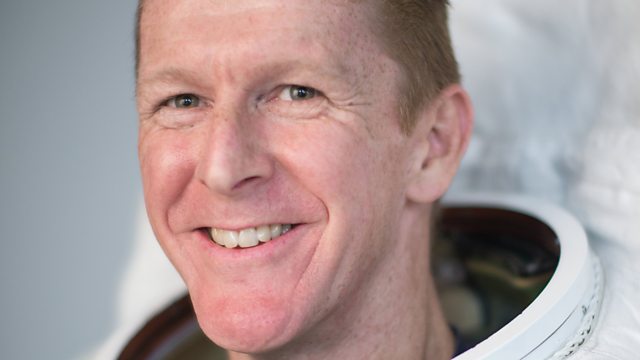 Tim Peake, astronaut
Major Tim Peake, astronaut, shares the eight tracks, book and luxury item he would want to take with him if cast away to a desert island. With Lauren Laverne.
Major Tim Peake, is an Army Air Corps officer and a European Space Agency astronaut. He was the first British astronaut to carry out a spacewalk.
As a child, he became interested in aviation, visiting air shows with his father and learning to fly as a teenager, although space travel was not yet a passion. He joined the school Cadet Corps and found he was in his element. From there he progressed to the Royal Military Academy Sandhurst, and then into the Army Air Corps in 1992. His military career included service in Northern Ireland and the former Yugoslavia, and he spent several years based in Germany where he met his wife Rebecca. He qualified as a helicopter pilot in 1992, and later became a helicopter instructor. He spent time in the USA, learning to fly the Apache attack helicopter, before becoming a test pilot in 2005.
In 2008, he answered an advert from the European Space Agency looking for astronauts. The following year he became one of six successful candidates, chosen from more than 8000 hopefuls. Years of training followed, involving anything from basic dentistry to underwater 'spacewalking', and in December 2015 he headed to the International Space Station for six months.
After his return, Tim moved back to the UK to work with industry and engage in outreach work while he awaits his next space mission. He lives in Hampshire with his wife and two sons.
DISC ONE: Don't Stop Me Now by Queen
DISC TWO: It Must Be Love by Madness
DISC THREE: Waterloo Sunset by The Kinks
DISC FOUR: Mr. Blue Sky by Electric Light Orchestra
DISC FIVE: Word Up! By Gun
DISC SIX: I Don't Want to Miss a Thing by Aerosmith
DISC SEVEN: Glycerine by Bush
DISC EIGHT: Always Look on the Bright Side of Life by Monty Python
BOOK CHOICE: An atlas
LUXURY ITEM: A telescope
CASTAWAY'S FAVOURITE: I Don't Want to Miss a Thing by Aerosmith
Presenter Lauren Laverne
Producer Sarah Taylor
Last on
The European Space Agency astronaut shares his castaway selections.
Music Played
Queen

Don't Stop Me Now

Queen: Greatest Hits.
Universal-Island Records Limited.
7.

Madness

It Must Be Love

Divine Madness.
Union Square Music Ltd.
10.

The Kinks

Waterloo Sunset

The Best Of The Kinks 1966-67.
Sanctuary Records Ltd.
1.

Electric Light Orchestra

Mr. Blue Sky

Out Of The Blue.
Sony Music Entertainment UK Ltd.
13.

Aerosmith

I Don't Want To Miss A Thing

Bush

Glycerine

Sixteen Stone.
Westway Records.
10.

Monty Python

Always Look On The Bright Side Of Life

Monty Python Sings.
Virgin Records Ltd.
1.
Broadcasts