Main content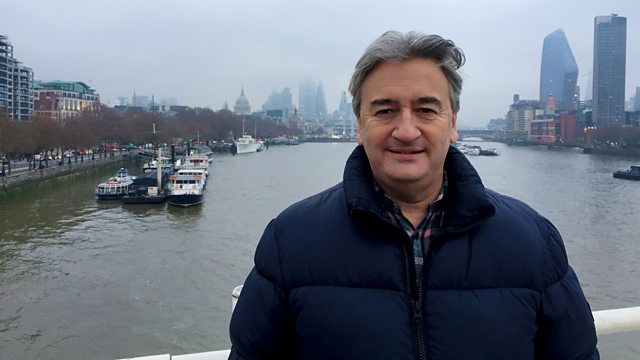 Fergal Keane continues his exploration of the profound influence the Irish have had on Britain, from the years of Famine to the construction of Britain in the 20th Century.
In the second part of "How the Irish Shaped Britain," Fergal Keane continues his exploration of the profound influence the Irish have had on Britain.
In this episode we begin with the years of the Great Famine. Millions leave Ireland, many of them heading for the port cities of Britain, where they are far from welcome. But soon they become an integral part of the workforce in the factories and shipyards of Scotland and England. Then, in the second half of the 19th century, Irish Fenians, partly in revenge for the famine, launch the first terrorist bombing campaign to hit these shores.
In parallel with that, Irish MPs flex their muscles in Westminster; while on the cultural stage Irish playwrights and writers are bringing the 'English language back to the English'. It's a pattern that stretches through the decades, to the reconstruction of Britain's bombed out cities after World War Two and the building of a more modern Britain in the 1950s and 1960s, with the successors of the Irish navvies digging their way underground. Irish descendants also begin to shape the British musical scene.
It's a tale of rejection and assimilation, of hatred and tolerance, of separateness and of mixing. In the story of how the Irish shaped Britain, as Fergal points out, there are all kinds of narratives and counter-narratives being told at the same time.
Produced by John Murphy and Adele Armstrong.
Mixed by Eloise Whitmore.
Thanks to (in order of appearance in series): Emeritus Professor Roy Foster (Oxford University), Sinéad Morrissey (poet + Newcastle University), Dara O'Briain, Dr. Clare Downham (Liverpool University), Professor Dáibhí Ó Cróinín (ex NUI Galway), Professor Diarmaid MacCullough (ex Oxford University), Fiona Shaw, Professor Thomas Devine (ex Edinburgh University), Dr. Catriona MacDonald (Glasgow University), Greg Quiery (In Hardship and Hope: A History of the Liverpool Irish), Michael Boyle, Theresa Hill, Ultan Cowley (The Men who built Britain: A History of the Irish Navvy), Professor Louise Richardson (Vice Chancellor Oxford University), Ralph McTell (singer, songwriter), Sean Mulryan (CEO Ballymore Group), Una Heaslip, Carmel Wilson, Danny Maher (CEO Ashford Place), Bob Geldof, Bobby McDonagh (ex Ambassador to London), Maurice Malone (CEO Birmingham Irish Association), Adrian Goldberg (The 21 Podcast), Dr Caoimhe Nic Dháibhéid (Sheffield University).
Last on
Broadcasts