Main content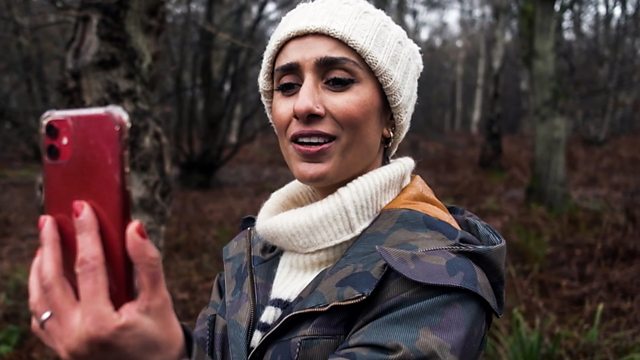 New Year, New Me
The team looks for ways we can make the countryside a bigger part of our lives. Matt Baker tries his hand at canicross, Helen Skelton sets out to buy local, and Adam Henson gets creative with clay.
After the turmoil of 2020 and as a new year gets underway, how do we plan to make the countryside a bigger part of our lives? Matt Baker wants to get fitter and tries his hand at canicross, Anita Rani straps on her walking boots, Margherita Taylor heads for the woods, Helen Skelton wants to buy local, Tom Heap discovers the joys of 'blue' therapy, and Adam Henson gets creative with clay.
RECIPE: Gizzi Erskine's Puy lentils, red wine and roasted Toulouse sausage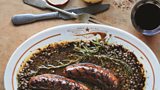 Serves 6
Prep time: 20 minutes
Cook time: 1hr
For the LENTILS:
3 tbsp olive oil
1 large onion, very finely chopped
2 celery sticks, very finely chopped
2 carrots, very finely chopped
6 garlic gloves, very finely chopped
500g Puy Lentils, rinsed
500ml big red wine like Claret or Rioja
500ml fresh brown chicken or beef stock
2 bay leaves
5 sprigs of rosemary
A few sprigs of thyme
1 tbsp of butter
200ml of red wine of beef sauce to serve (optional)
Extra virgin oil, for drizzling
Sea salt and freshly ground black pepper
FOR THE SAUSAGES:
Oil for frying
12 top-quality Toulouse sausages, with a good dispersal of fat
Heat the oil for the lentils in a heavy-based saucepan over a medium heat, add the onion, celery and carrots and sweat for 15-20 minutes, stirring, until they soften and begin to caramelise. Add the garlic and cook for a further couple of minutes to soften.
Preheat the oven as hot as it can go (about 260⁰C/240⁰C fan/ gas mark 10)
Tip the lentils into the pan and stir them through so that they are nicely coated in oil, then pour in the wine. 
Allow it to bubble vigorously for 3-4 minutes, then add the stock, bay leaves, rosemary and thyme. Cook, uncovered, at a rolling simmer for 30 minutes, until the lentils are cooked through but still al dente.
About 15 minutes before the lentils are done, cook the sausages. Brown them, in a hot ovenproof frying pan with a little oil, then finish them in the hot oven for 8 minutes.
Once the sausages are cooked, remove the herb stalks and bay leaves from the lentils and season the lentils generously with salt and pepper.
Now for the final three flourishes: the addition of butter, sauce and oil. 
Stir the butter through the lentils – this adds velvety texture and is a quintessentially French way to finish the dish – then spoon 2-3 tablespoons of lentils in an even layer on each plate, and place the sausages on top. If you're using the sauce, pour 2 tablespoons over the sausages and another around the lentils. Drizzle with extra-virgin olive oil and serve.
Recipe from Restore by Gizzi Erskine
Photo: Issy Croker
Credits
| Role | Contributor |
| --- | --- |
| Presenter | Matt Baker |
| Presenter | Anita Rani |
| Presenter | Margherita Taylor |
| Presenter | Helen Skelton |
| Presenter | Adam Henson |
| Presenter | Tom Heap |
| Series Editor | Jane Lomas |
| Executive Producer | Bill Lyons |