Main content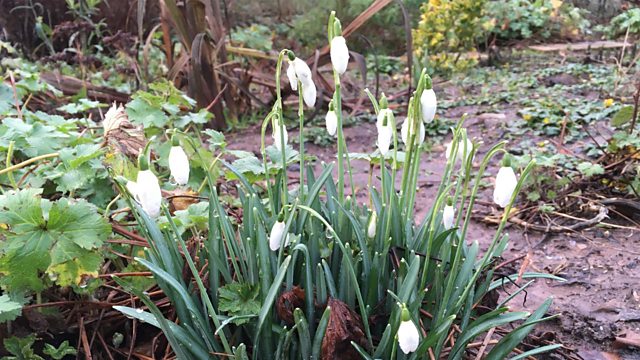 Snowdrop Country
Alan Street has spent his life discovering snowdrops. But now people pay hundreds of pounds for a single rare bulb. We follow Alan as he names and propagates his new species.
Over the past decade there's been an explosion in "Snowdrop Mania" – galanthophiles, or snowdrop fans, desperate to get their hands on the newest species of snowdrops, paying hundreds, or even upwards of a £1000 at auction for a single bulb.
Two years ago, Radio 4 producer Polly Weston heard of a man in Somerset who had discovered and named many of the most sought after varieties – Alan Street. Polly pictured following him around the countryside in search of the snowdrop which might make him his fortune. The truth turned out to be very different. Alan works for a family-owned nursery, where new varieties of snowdrop seed themselves around a little woodland – thanks in part to the huge number of species they already grow, working in collaboration with the family's bees. Alan's lost count of the number he's discovered and named – "50, 70, 100 or more perhaps… I've more than enough." Yet he still keeps looking. He isn't interested in money – the auctioning of snowdrops to the highest bidder makes him uneasy – and has spawned the unfortunate side effect of snowdrop crime – people stealing snowdrops. As we record, 13,000 are dug up one night from an abbey in Norfolk. Alan is ever vigilant. Once upon a time, snowdrop bulbs were only ever swapped by galanthophiles, just for the love of it.
Through the seasons, Alan tends and protects this small landscape, and cultivates each of his newly discovered, and rare varieties. We begin to realise the meaning behind each one – many are named after people, many of whom Alan knew and have now gone. It takes years for new varieties to become established and ready to be shared. But as we follow the progress of Alan's snowdrop landscape through 2020, we approach a snowdrop season which has never been so meaningful or welcome.
Last on
Broadcasts

Podcast
Countryside magazine featuring the people and wildlife that shape the landscape of Britain