Main content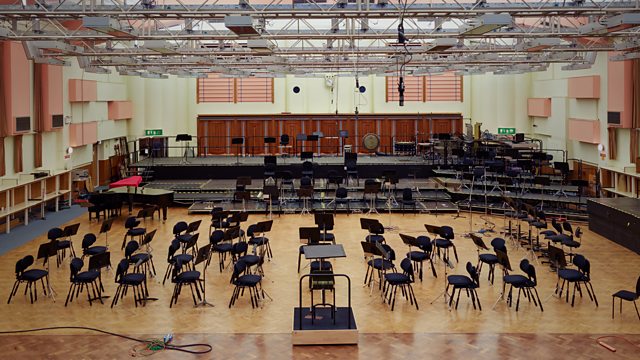 Northern Chords Festival
Northern Chords Festival at the BBC, a concert celebrating the musical links between the USA and the UK, with music by Copland, Barber and three contemporary composers.
Northern Chords Festival at the BBC.
Jonathan Bloxham brings his starry festival line-up to the BBC's studios in a concert that looks forward to next week's Presidential Inauguration Day at the White House.
Founded in 2009 by Artistic Director Jonathan Bloxham, the Northern Chords Festival takes place on the banks of the River Tyne, in Newcastle and Gateshead, and brings together the most exciting young musicians from across Europe. Tonight the festival's varied forces premiere three works by UK and US composers and present a mix of classic American songs and spirituals together with music by British composers inspired by the American experience. And there are some classics of the string orchestra repertoire for good measure.
Live from BBC Studios in Maida Vale
Copland: Hoe-down from Rodeo
Nico Muhly: The Last Letter (broadcast premiere)
Florence Price: Adoration
Matthew Kaner: A light dusting (world premiere)
Nico Muhly: A long Line
Vaughan Williams: 5 Variants of 'Dives and Lazarus '
Copland: Long Time Ago (Ballad) from Old American Songs set 1
Nico Muhly: A Brisk Young Lad
Coleridge-Taylor: Deep River op. 59
Britten: I wonder as I wander
Vaughan Williams: Nocturne from 3 Poems by Walt Whitman
Tonia Ko: new work (world premiere)
Barber Adagio for Strings
Britten: Young Apollo
Jonathan McGovern (baritone)
Daniel Lebhardt (piano)
Benjamin Baker (violin)
Northern Chords Festival Orchestra
Jonathan Bloxham (conductor)
About the North Chords Festival: Aged just 20, Jonathan was keen to return to the region that had nurtured his talent. In 2008 he decided to start Northern Chords, with the dual aim of bringing some of the most talented young musicians in the world to inspire more local youngsters and amateur musicians to follow their dreams and to develop their own musical talents, and to delight and excite local audiences with concerts, programmes, and musicians that they wouldn't otherwise get to hear in their area.
The Festival celebrated its tenth anniversary in 2019, and has ranged in size from three chamber music concerts over a weekend to 11 concerts over seven days including its own festival orchestra and chorus. And the festival has regularly commissioned new works for the enjoyment of all in the Gateshead area.