Main content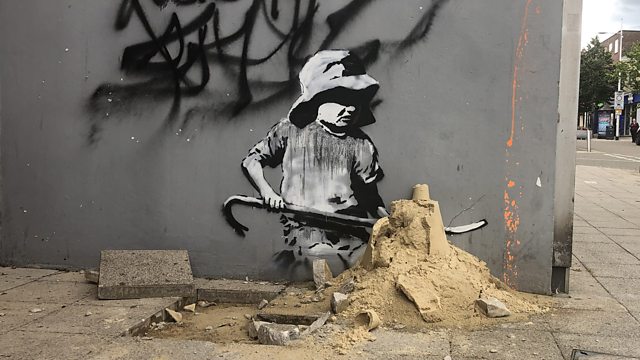 Art Came in the Night
Artist Kevin Harman explores what happens when public art and people clash as he works on a new installation in Glasgow's Govan area.
Kevin Harman is an Edinburgh artist best known for creating 'situations', such as borrowing all his neighbours' doormats to create an installation, smashing the window of an art gallery and transforming rubbish in skips into sculptures. In this programme he explores what happens when public art and people clash and gets a sense of what it's like when 'art comes in the night'. Whilst working on his own installation in Govan, he ponders what success and failure really mean in the sometimes controversial world of public art.
Some public art is loved, some even defended from packs of roving art dealers, some is brushed off with indifference, or grumbling about wasted tax money. But when art comes out of the galleries and is splashed on the wall of someone's house or stuck outside on a shared stretch of grass the community can't help but be changed by its presence, and the art is at the mercy of those surrounding it.
Kevin meets architect Lee Ivett who, in 2017, embarked on a new project in Govan, a huge sculptural installation constructed from ropes taken from the former shipyards. Within 48 hours it had been burned to ashes by local teens. Although always intended as a temporary installation, community anger at large pots of money being given to artists erupted, stoked by articles in the press. But was this destruction simply vandalism or a sign that some important local needs weren't being met? Artist Nicola Atkinson has created public art all over the world, including recently in Dunfermline. She talks to Kevin about different ways she's found to engage with communities and cautions against the scandalisation of public art which can disempower artists and undermine the idea that art should be for everybody.
Last on
Broadcast