Main content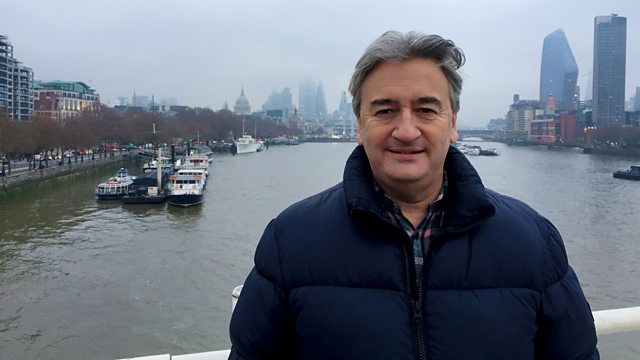 Kingdoms of the Broad Sea
With migration, integration and assimilation dominating much public debate, Fergal Keane explores the profound influence, over many centuries, of the Irish in Britain.
In this series Fergal Keane explores the profound influence the Irish have had on Britain over many centuries, from the vanished tribes of the ancient Celtic world to the Ryanair generation of today.
The telling of the story of Britain and Ireland has been dominated by narratives of conquest and rebellion in which a powerful empire attempts to subdue an indomitable native spirit – two different identities colliding throughout history. Fergal presents a more complex narrative. He begins with the old kingdoms of the Irish Sea, and travels through the time of the Vikings to the 19th and 20th century migrations, all the way to present day. Throughout the Irish have shaped literature, culture, politics and the physical landscape.
Whether it is 19th century theatre or verse, or today's pop culture, Irish migrants and their descendants have deeply influenced and steered the UK's literature and arts. Think of Oscar Wilde and George Bernard Shaw or, more recently, the Beatles, the Sex Pistols, Oasis, or Terry Wogan, Paul Merton, Claire Foy, the Irish and their descendants have had a profound influence on Britishness. The Irish have also been highly influential in the world of business, politics and sport.
As migration, integration and assimilation dominate public debate in Britain, Fergal examines the impact of the longest and biggest immigrant story in the history of the United Kingdom.
Producers: John Murphy & Adele Armstrong
Mixed by Eloise Whitmore
Thanks to (in order of appearance): Emeritus Professor Roy Foster (Oxford University), Sinéad Morrissey (poet + Newcastle University), Dara O'Briain, Dr. Clare Downham (Liverpool University), Professor Dáibhí Ó Cróinín (ex NUI Galway), Professor Diarmaid MacCullough (ex Oxford University), Fiona Shaw, Professor Thomas Devine (ex Edinburgh University), Dr. Catriona MacDonald (Glasgow University), Greg Quiery (In Hardship and Hope: A History of the Liverpool Irish), Michael Boyle, Theresa Hill, Ultan Cowley (The Men who built Britain: A History of the Irish Navvy), Professor Louise Richardson (Vice Chancellor Oxford University), Ralph McTell (singer, songwriter), Sean Mulryan (CEO Ballymore Group), Una Heaslip, Carmel Wilson, Danny Maher (CEO Ashford Place), Bob Geldof, Bobby McDonagh (ex Ambassador to London), Maurice Malone (CEO Birmingham Irish Association), Adrian Goldberg (The 21 Podcast), Dr Caoimhe Nic Dháibhéid (Sheffield University).
Last on
More episodes
Previous
You are at the first episode
Broadcasts