Main content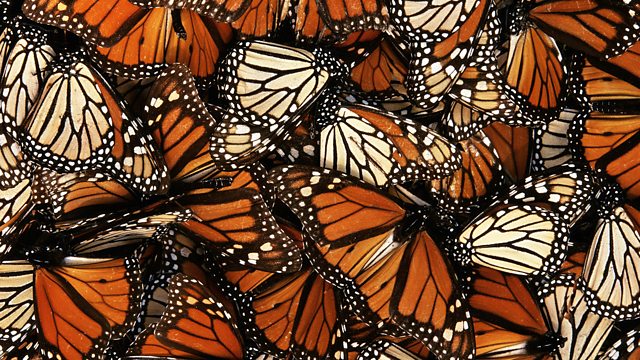 Flight of the Monarch
The migratory route of the monarch butterfly traced in words, music and sound.
Composer and sound artist Rob Mackay traces the migratory route of the monarch butterfly, from the Great Lakes in Canada to the forests of Mexico, via the shifting coastal landscape of the eastern shores of Virginia.
Along the route of this sonic road-movie Rob meets people working to protect this extraordinary species: Darlene Burgess, a conservation specialist monitoring butterfly populations on the shores of Lake Eerie; Nancy Barnhart, coordinating the monarch migration programme for the Coastal Virginia Wildlife Observatory at Kiptopeke State Park, where we also encounter composer Matthew Burtner, whose sonifications of data from the local seagrass beds help track changes in the monarch's environment; and butterfly expert Pablo Jaramillo-López giving a tour of the Sierra Chincua and Cerro Pelón reserves in Mexico. We also hear reflections from the late Lincoln Brower, the American entomologist whose legacy has inspired many of today's research and conservation efforts.
The programme features Rob Mackay's binaural field recordings, and audio from live stream boxes, set up in partnership with the ecological art and technology collective SoundCamp to monitor the monarch's changing habitats. Plus Rob's own flute playing, recorded in the Mexican forest meadows with David Blink on handpan and trumpet, alongside poetry in Spanish about the monarch by Rolando Rodriguez.
Last on
Broadcast