Main content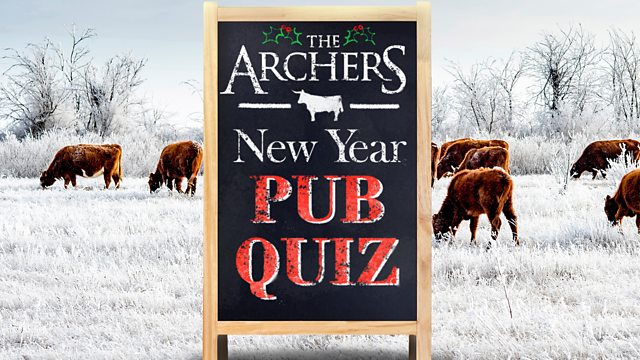 The Archers Anniversary Quiz
Kenton and Jolene host a special quiz in The Bull about the events and characters of Ambridge across 70 years.
To mark the 70th anniversary of The Archers, Kenton and Jolene host a special quiz in The Bull, focusing on events and characters in Ambridge down the decades. Capacity is strictly limited because of pandemic restrictions so there isn't room for the crowd that would gather in more normal times. But for this special occasion, a team of familiar Radio 4 presenters will take on a team of Archers super-fans from around the UK.
There'll be plenty of brain-racking and dredging of memory banks as the players try to remember significant events, scandals, people who came and went, fleeting relationships and stories that have passed into Ambridge folklore.
Taking part on the Radio 4 team are avid listeners Jane Garvey, Martha Kearney and Senior Announcer Chris Aldridge who is adamant that sharing a name with a prominent Ambridge family doesn't give him a built-in advantage. They face a team made up of three formidable fans who boast decades of listening and who, between them, run a number of fan sites and blogs devoted to The Archers - Harriet Carmichael from London, Bernadette Hawkes from Margate and Gary Gilday from Glasgow.
The rivalry across the socially-distanced lounge bar promises to be keen, but there'll be plenty of fun to be had along the way, and perhaps a few surprise guest appearances.
Listeners can download a score-card online so they can play along and try to better the scores achieved by the teams in The Bull.
Producer: Paul Bajoria
Last on
New Year's Day 2021
19:15
Broadcast
New Year's Day 2021

19:15
Featured in...
Discover new things about The Archers with a selection of special programmes.