Main content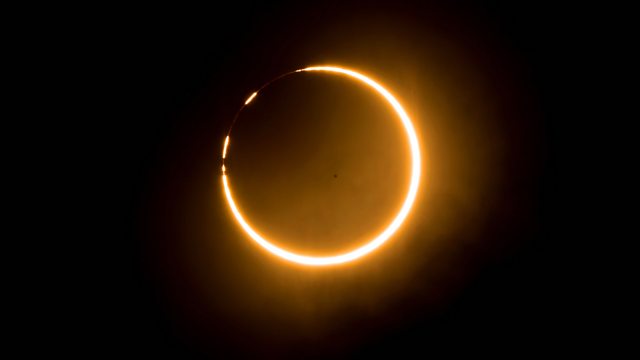 Eclipses
Melvyn Bragg and guests discuss the progress in our understanding of eclipses from the ancient world onwards and how their predictability illuminates historical records and myths.
Melvyn Bragg and guests discuss solar eclipses, some of life's most extraordinary moments, when day becomes night and the stars come out before day returns either all too soon or not soon enough, depending on what you understand to be happening. In ancient China, for example, there was a story that a dragon was eating the sun and it had to be scared away by banging pots and pans if the sun were to return. Total lunar eclipses are more frequent and last longer, with a blood moon coloured red like a sunrise or sunset. Both events have created the chance for scientists to learn something remarkable, from the speed of light, to the width of the Atlantic, to the roundness of Earth, to discovering helium and proving Einstein's Theory of General Relativity.
With
Carolin Crawford
Public Astronomer based at the Institute of Astronomy, University of Cambridge and a fellow of Emmanuel College
Frank Close
Emeritus Professor of Physics at the University of Oxford
And
Lucie Green
Professor of Physics and a Royal Society University Research Fellow at Mullard Space Science Laboratory at University College London
Producers: Simon Tillotson and Julia Johnson
Last on
LINKS AND FURTHER READING
Carolin Crawford at the University of Cambridge
Frank Close at the University of Oxford
Lucie Green at University College London
Eclipses - NASA
Total solar eclipse - why so rare? – BBC Learning
Lucie Green's eclipse watching tips – BBC Stargazing
'Halley as an eclipse pioneer: his maps and observations of the total solar eclipses of 1715 and 1724' by Jay M. Pasachoff - Journal of Astronomical History and Heritage, 1999
What are solar eclipses? – timeanddate.com
What is a solar eclipse? – NASA's website for children
Eclipse - Wikipedia

READING LIST:
Frank Close,
Eclipse: Journeys to the Dark Side of the Moon
(Oxford University Press, 2017)
Frank Close,
Eclipses: What Everyone Needs to Know
(Oxford University Press, 2019)
Lucie Green,
15 Million Degrees: A Journey to the Centre of the Sun
(Viking, 2016)
Mark Littmann and Fred Espenak,
Totality: The Great American Eclipses of 2017 and 2024
(Oxford University Press, 2017)
Duncan Steel,
Eclipse: The Celestial Phenomenon That Changed the Course of History
(Henry Joseph Press, 2001)
Broadcasts

Featured in...
Scientific principles, theory, and the role of key figures in the advancement of science.