Main content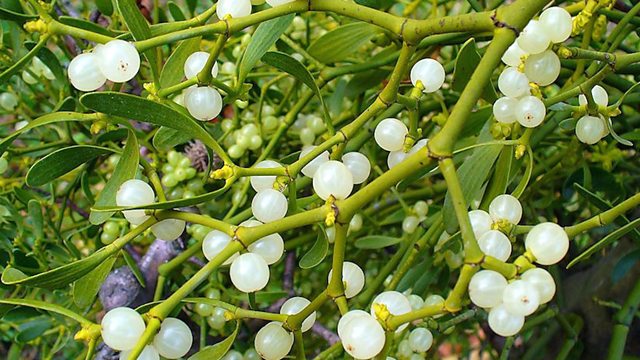 GQT at Home: Merry Christmas
Kathy Clugston and her team of gardening experts answer your questions.
Kathy Clugston and her team of gardening experts answer your questions. Christine Walkden, James Wong and Bob Flowerdew tackle questions sent in by listeners and the virtual audience.
The panellists suggest vegetables to grow for next year's Christmas dinner, advise on caring for a Peace lily and put a confusing conifer under the microscope. They also answer questions from some famous fans of the programme.
Away from the questions, Dr Chris Thorogood is talking all things mistletoe, and Advolly Richmond shares the history of the Clematis cirrhosa.
Producer - Daniel Cocker
Assistant Producer - Jemima Rathbone
A Somethin' Else production for BBC Radio 4
Last on
Plant List
Questions and timecodes are below. Where applicable, plant names are provided.
Q – I've prepped my vegetable beds at my allotment ready for the spring. What would the panel consider to be an unusual vegetable to grow in West Yorkshire (that I wouldn't find in the shops) which could be part of next year's Christmas lunch?
(2 minutes 11 seconds)
Bob – Brussels sprout 'Noisette'
Scorzonera (Black salsify)
Christine – Skirret
James – Tasmanian mountain pepper
Q – What are the best plants to use for indoor Christmas decorations and how do you keep them looking fresh?
(6 minutes)
James - Azalea
Q – I was given a conifer about 15 years ago as a gift. Over the years it has flourished but I've noticed it has two different sorts of foliage. Can you explain this?
(8 minutes 13 seconds)
Q – Can the panel suggest some edible plants with Caribbean roots that I can grow in the Lincolnshire fens?
(10 minutes 15 seconds)
Bob – Hibiscus sabdariffa
Christine – Mango squash
James – Callaloo Amaranth
Chayote
Feature – Dr Chris Thorogood on Mistletoe
(15 minutes 15 seconds)
Q – My colleagues sent me a Peace Lily after the birth of my daughter, Lily, in October. How do I look after Lily's lily to make it flower? And how long can I expect it to last?
(20 minutes 12 seconds)
Q – I have a fig tree which I grew from seed about 20 years ago, but it has never developed flowers or fruit – what am I doing wrong?
(23 minutes)
Q – Could the panel recommend an exotic tree for a walled garden, half in shade, half in sun, to create the illusion that I'm on my travels in somewhere like Cashmere, or Morocco.
(24 minutes 24 seconds)
Christine – Cupressus cashmeriana
Bob – Hunza apricot
Date palm
James – Jacaranda
Jacaranda Bonsai Blue
Feature – Advolly Richmond on Clematis cirrhosa
(29 minutes 49 seconds)
Clematis cirrhosa 'Jingle Bells'
Clematis cirrhosa 'Lansdowne Gem'
Clematis cirrhosa 'Advent Bells'
Clematis cirrhosa 'Christmas Surprise'
Q – What is the panel's most inspiring and ingenious gardening gift they've ever been given?
(33 minutes 24 seconds)
Q – How do you nurture Poinsettias beyond Christmas and into the new year?
(37 minutes 13 seconds)
Broadcasts