Main content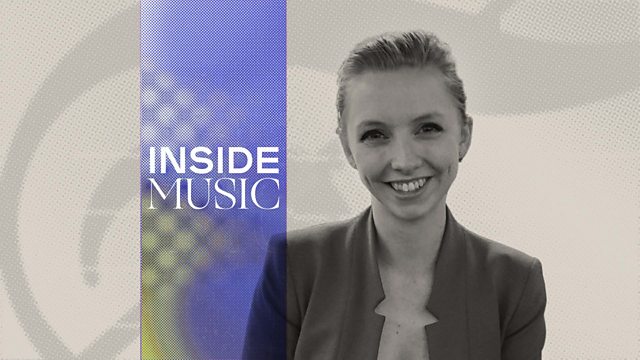 Conductor and organist Anna Lapwood on musical instinct and unexpected textures
Anna Lapwood opens up a selection of classical music from her point of view as a conductor and organist - revealing familiar and unfamiliar works in a new light.
Conductor and organist Anna Lapwood gets nostalgic with a waltz for Christmas, and muses on the memory of playing a very scary celeste solo…
Anna also explains why vocal writing by Messiaen can translate so perfectly onto the clarinet, reveals how an orchestra can pull out all the stops in a piece written for organ, and marvels at the skill of Alison Balsom soaring up to stratospheric top Ds on her trumpet.
A series in which each week a musician explores a selection of music - from the inside.
A Tandem Production for BBC Radio 3
Last on
Music Played
Benjamin Britten

This Little Babe & Interlude (from Ceremony of Carols)

Performer: Claire Jones. Choir: National Youth Choir of Great Britain. Conductor: Christopher Bell.

Georg Philipp Telemann

Trumpet Concerto, TWV 51:D7 - 1. Adagio

Performer: Alison Balsom. Ensemble: Balsom Ensemble.

Dora Pejačević

Symphony in F sharp minor - iii. Scherzo

Orchestra: Rheinland-Pfalz State Philharmonic. Conductor: Ari Rasilainen.

Olivier Messiaen

Vocalise-Etude (arranged for clarinet and piano)

Performer: Cédric Pescia. Performer: François Benda.

Wolfgang Amadeus Mozart

Fugue No. 1 in C minor K405 (after BWV 871,2)

Ensemble: Phantasm.

Witold Lutosławski

Concerto for Orchestra - movements 1 and 2

Orchestra: London Philharmonic Orchestra. Conductor: Jukka‐Pekka Saraste.

Caroline Shaw

And the Swallow

Choir: Chapel Choir of Pembroke College, Cambridge. Conductor: Anna Lapwood.

Johann Sebastian Bach

Keyboard Concerto BWV 1052 - 1st movement

Performer: Murray Perahia. Orchestra: Academy of St Martin in the Fields.

Patrick Gowers

An Occasional Trumpet Voluntary

Performer: David Briggs.

Richard Strauss

Rosenkavalier - final trio

Singer: Anne Sofie von Otter. Singer: Barbara Hendricks. Singer: Kiri Te Kanawa. Singer: Franz Grundheber. Ensemble: Staatskapelle Dresden. Conductor: Bernard Haitink.

Joseph Bologne, Chevalier de Saint-Georges

Sonata for harp and flute - 1st movement, Andante

Performer: Sandrine Chatron. Performer: Amélie Michel.

John Tavener

The Veil of the Temple: Mother of God Here I Stand

Performer: Soumik Datta. Orchestra: O/Modernt Chamber Orchestra. Conductor: Hugo Ticciati.

Herbert Howells

Magnificat from 'Collegium Regale'

Orchestrator: John Rutter. Choir: Choir of King's College, Cambridge. Orchestra: Britten Sinfonia. Conductor: Stephen Cleobury.

Joseph Haydn

Piano Trio in A flat HXV No. 14 - 1. Allegro moderato

Ensemble: Beaux Arts Trio.

Eleanor Daley

Child with the Starry Crayon

Singer: Doreen Marriott. Choir: The Oriana Women's Choir.

Pyotr Ilyich Tchaikovsky

Sleeping Beauty Waltz

Orchestra: The Philadelphia Orchestra. Conductor: Riccardo Muti.
Broadcast